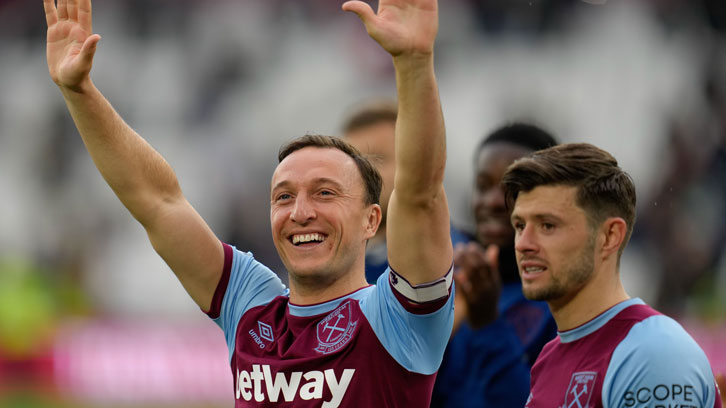 Mark Noble believes the visit of Premier League champions Manchester City to London Stadium for his final home game as a West Ham United player was 'written in the stars'.
The Hammers' long-serving captain and all-time Premier League record appearance maker will commence his 18th and last season in Claret and Blue in August, when the Irons kick-off the 2021/22 Premier League campaign at Newcastle United.
The season will conclude with the visit of Pep Guardiola's UEFA Champions League runners-up to Noble's native east London on Sunday 15 May, before the midfielder plays his final game for his boyhood Club at Brighton & Hove Albion a week later.
Noble is looking forward to visiting all the Premier League's iconic stadiums one final time as a player, but it is that last home fixture of his career that has really caught his imagination.
For me, I'm definitely looking forward to going to Tottenham, Old Trafford and all the big ones where I'll really be thinking 'this will be my last time playing at these stadiums

Mark Noble
"What a last game for me!" he beamed. "I was absolutely buzzing when the fixtures came out. I was thinking I either wanted Manchester United or Manchester City because everyone wants to see us  play against them, so to have such a glamourous fixture for my last game is amazing.
"My Dad said to me 'it's written in the stars' and I agree with him. I've been waiting for the fixtures to come out so I could see who we'd be playing when and to have one of the best teams in the world coming to London Stadium for my final game is going to be a fantastic occasion.
"For me, I'm definitely looking forward to going to Tottenham, Old Trafford and all the big ones where I'll really be thinking 'this will be my last time playing at these stadiums'.
"For me, it's going to be so emotional. Every game we play, every win we celebrate, and especially when we start to count down the numbers of the games left in the second half of the season, it's going to get really emotional. I am sure you'll see a few tears!"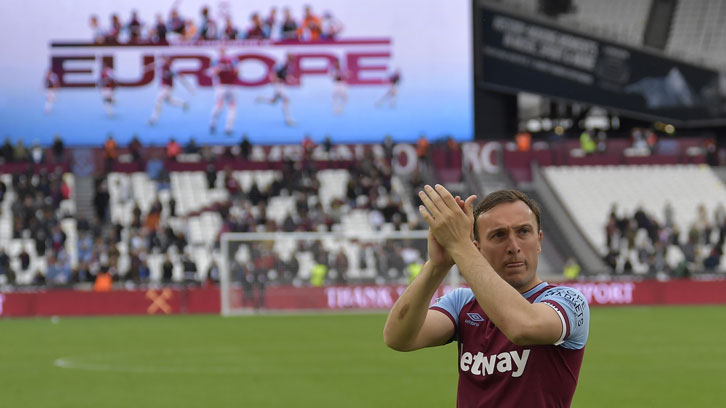 And, should things go to plan and COVID-19 restrictions are lifted in July, the Premier League, its clubs and Noble himself hopes stadiums will be full come the opening day of the 2021/22 season.
"Fans being back regularly in August would be great news for everyone," he said. "For me, it's been a real rollercoaster since COVID, especially during lockdown, so to hopefully have 60,000 back in my last season, it's just come together nicely."
Noble is also determined that his final season is another successful one, building on the Hammers' outstanding 2020/21 campaign that saw them finish sixth in the Premier League and qualify for the UEFA Europa League group stage.
The skipper knows the Thursday/Sunday fixture list presents a new challenge, but he believes the Irons have the quality and resilience to rise to that challenge.
"It's a big season for the Club, with Europa League football, getting back late on Thursday nights and playing on Sundays, but it's really exciting and one that the fans are looking forward to," he observed.
"I never really look at the fixture list and think 'that's a tough run' or 'we should pick up points there' because you don't know how the season is going to pan out.
"Last season, nobody expected us to pick up any points from what they said was a horror run at the start, but we came out on top and it set us up for a really good season. I'm certainly hoping we can start well and have another good year."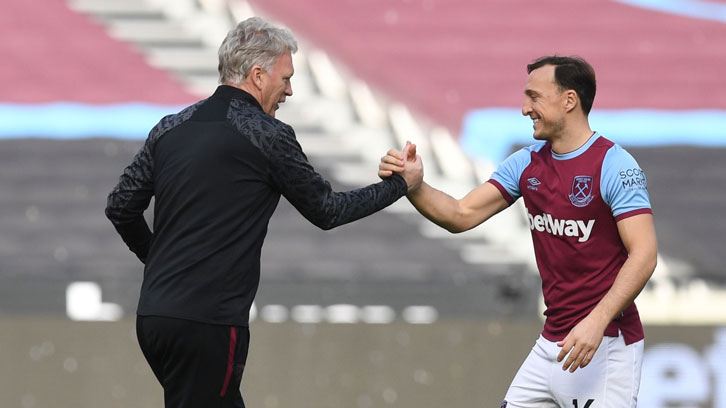 While Noble's influence and leadership will be vital as West Ham contend on four fronts in 2021/22, the same can be said of manager David Moyes, who has signed a new three-year contract with the Club.
The pair have worked closely since Moyes' return in December 2019 and the high demands both place on the squad and players played a big part in the successes of last season – and Noble says both will be demanding even more in the upcoming campaign with the aim for the standards set to continue developing.
"David Moyes has done a great job, his new contract is thoroughly deserved. Everyone is pleased he has signed and  we are concentrating on the season ahead," the captain confirmed.
"With Europe, the travelling and the Premier League, it's going to be tough but he will be sitting down with his staff to prepare us for next season, including  looking to bring in more right types of players to keep improving the squad.
"We had a fantastic season built on the work ethic the manager demanded, the quality in the squad and also the belief that the results we achieved gave everyone. We did phenomenally well to get into the Europa League and we enjoyed that, but now we need to focus on the season ahead, rather than dwell on what we've done. That's how to thrive at the top level.
"The boys who have produced that level need to produce it again. If we want to be successful, pre-season starts in two weeks and we need to do it all again. Football moves on so quickly. The gaffer knows that as well as anyone. He is a manager who has done it before at Everton, challenging for top-six every season.
"Everyone has done a fantastic job, but now we need to knuckle down and start again, because I know how difficult it is to replicate.
"I've got one more season to go and I'm still going to be the same me and give everything for my Club, as I've done over the last 17 seasons. I might not play as much as I have done in previous seasons but if the manager needs me to play, I'll be ready to play. I'm ready to go again."