"What do I do to make you want me?
What I got to do to be heard?
What do I say when it's all over?
Sorry seems to be the hardest word"
Regret is the emotion many an FPL manager felt this Gameweek with over inflated benches leading to missed opportunity.
We saw Calvert-Lewin, Martinez and even Salah either sitting on the side-lines or sold as The Great and The Good prepared for the Doubles to come.
Perhaps the biggest apology should come from Mike Dean whose decision to red card Soucek led to many a potato salad being spilt in outrage; the decision has since been rescinded but the fantasy damage is done.
For those not following along, The Great and The Good are prominent managers I track to hopefully improve my own performance. They are the Scouts Neale Rigg and Joe Lepper, Pro Pundits (Mark Sutherns, Az, Lateriser, Fabio Borges and Tom Freeman ), FPL "celebrities", FPL General,  Magnus Carlsen and finally from the Hall of Fame we have Ville Ronka, Matthew Jones and Sean Tobin
OVERALL PERFORMANCE 

Fabio was top of the bill this week with 82 points with Dallas, Gundogan and Son his double-digit heroes, the gap between him and leader FPL General is down to just eight points.
In a week with limited movement in the rankings, Tom Freeman unlocked the biggest green arrow with a jump of 57,000 places, Meslier was the unlikely hero but it could have been more as he was one of many to leave Calvert-Lewin on the bench.
Captaincy calls came down to a question of fixtures over form with Son being trusted by Mark, Neale, and Tom despite a shaky couple of games.
The gamblers of Magnus, Joe, Az and Lateriser were left to rue their pick of Antonio as his injury problems came back to haunt him.
WEEKLY TRANSFERS
This is a summary of the transfers for this week :
Az – Pope, Dallas (Forster, Robertson)
Fabio Borges – Mee (Robertson)
Joe Lepper – No transfers
FPL General – No transfers
Lateriser – Mee, Antonio (Davis, Targett)
Magnus Carlsen – Bamford, Struijk (Brewster, Robertson)
Mark Sutherns – Son (Salah)
Matthew Jones – No transfers
Neale Rigg – Son (Salah)
Sean Tobin – Bamford, Pope (Watkins, Johnstone)
Tom Freeman – Son (Zaha)
Ville Ronka – Pope (Martinez)
*transfers out are in brackets
Mark and Neale made the bold decision to let Mo go as they recruited Son, it paid off, but Salah still managed to score in a potentially title-deciding game at Anfield.
Transfer kings this week were Magnus and Az who wisely invested in Leeds players, as Bamford did his thing making him, dare I say, essential for those looking to capitalize on Double Gameweek 25.
This was the premiere of Az does Dallas, as he had preferred Ayling to this point in the season but resulted in a delightful dozen points for the Blackbox bearded wonder.
Lateriser continues to make aggressive moves to move up the rankings with his 11th hit of the season but that man Antonio and Mee did not live up to expectations.
TEMPLATE
The template for The Great and The Good is as follows with number in brackets showing how many teams in which they appear:-
Martinez (5), Johnstone/Pope (4)
Cancelo (9), Coufal (8), Dias (8), Robertson (7), Stones (7)
Bruno Fernandes (12), Salah (10), Gundogan (9), Soucek (8), Son (8)
Bamford (11), Antonio (10), Calvert-Lewin (9)
The template remains solid as a rock which explains the lack of any real movement this week, the only new face was Pope who surely must keep a clean sheet or two over the next few weeks.
WHAT IF?
This week The Great and The Good were left to wonder what might have been, so on that theme I have brought back out the "What If" machine which calculates the score of your team had you made no changes or updates. See here to work out your score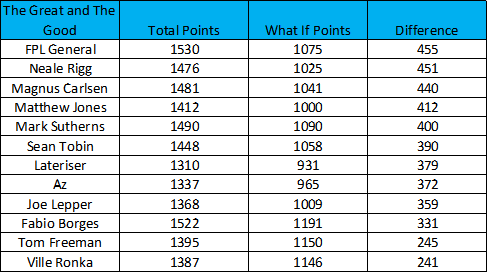 The good news is that the tinkering from The Great and The Good has seen them all improve with FPL General, Magnus and Neale making the biggest gains.
Az and Lateriser have also made impressive strides although it highlights how understrength their original squads were, time has made us forget that many of us thought that the new Chelsea signings of Werner, Havertz were bargains and that Aubameyang would be a mainstay of our teams all season!
CONCLUSION
Limited greens this week but sensibly many of The Great and The Good have stored up their transfers for the upcoming doubles, it goes without saying we should wait for the dust of the FA Cup settle before making our moves, but moving days are just ahead for those with chips in hand and ready to strike.
Anyway, that's all from me for now and remember don't have nightmares.
For those affected by any of the topics raised in the above article then you can find me on Twitter at https://twitter.com/Greyhead19
Source link