theScore examines the most important Premier League developments by answering the key questions from this weekend's slate of action.
Can Southgate afford to leave out Watkins?
Ollie Watkins' performance against Arsenal offered further proof of why the Aston Villa striker must be included in the England squad at this summer's European Championship.
His transition from a winger to a striker at Brentford has equipped him with a comprehensive grasp of what's expected from an attacker. He can poach but he can also facilitate the talent around him, like Jack Grealish and Ross Barkley, with his off-ball movement and ever-improving holdup play.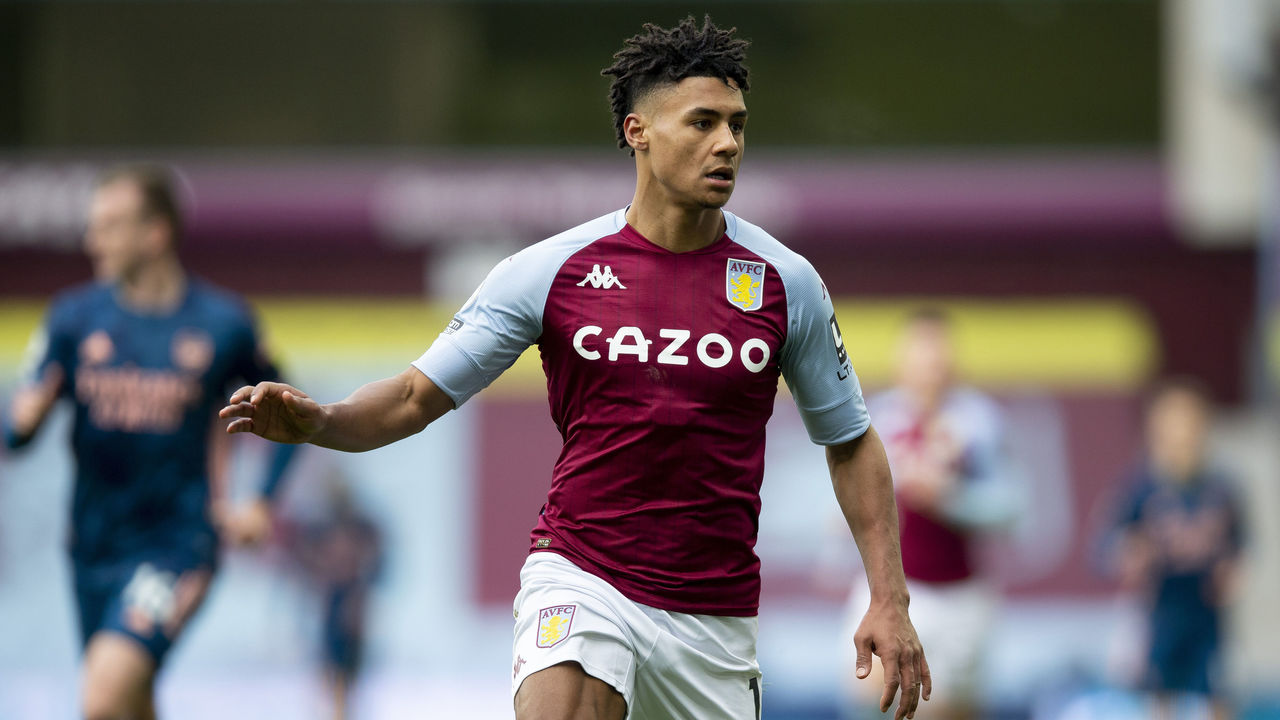 Watkins had the most passes in the opposition's half, aerial duels won, and shots during Sunday's 1-0 win over the Gunners. His match-winning strike came just 76 seconds into the fixture.
There's a lot of competition in Gareth Southgate's Three Lions front line, but Watkins' all-action approach could be the perfect cover for when Harry Kane is unavailable.
Is De Gea derailing United's title hopes?
Despite all the positives in recent weeks that have helped Manchester United mount a title challenge, it was a familiar problem between the sticks that cost Ole Gunnar Solskjaer's side three points against Everton on Saturday.
Losing Paul Pogba to injury was bad enough, as the French midfielder hobbled off the pitch in the first half with the hosts up by a pair of goals. But it was another rough outing from David De Gea that ultimately saw the hosts' roller coaster of emotions at Old Trafford end in misery.
Following a dominant first half, United conceded less than five minutes after the break when the Spanish goalkeeper allowed Abdoulaye Doucoure to score thanks to a juicy rebound. James Rodriguez made it 2-2 before Scott McTominay's go-ahead goal was canceled out by Dominic Calvert-Lewin, who snatched away a point for Everton with an equalizer deep into stoppage time.
While there was little De Gea could've done to stop Calvert-Lewin's shot, the optics of the moment weren't great as the 30-year-old was too slow off his line and too far away from the Everton striker. The lackluster display continued a theme of poor performances that have lingered unaddressed for far too long.
If the Red Devils have any hope of staying in the title race and keeping up with leaders Manchester City – who now enjoy a five-point lead atop the table with a game in hand – figuring out how to stop the heavy flow of goals flying into United's net has to be Solskjaer's top priority.
Or is the title race already over?
Manchester City have plumped up a cushion atop English football.
Incredibly, Kevin De Bruyne's absence may turn out to be a positive for Pep Guardiola. City were unimaginative earlier in the campaign, passing it to the Belgian talisman at every opportunity and relying on him to create opportunities and drive counter-attacks.
But now, the others have stepped up. Phil Foden was mesmeric in Sunday's 4-1 ease past Liverpool; his slick movement kept Jordan Henderson and Andy Robertson at bay before he teed up Ilkay Gundogan for City's second goal, and the Stockport-reared youngster again tormented Robertson ahead of his vicious strike to close the scoring.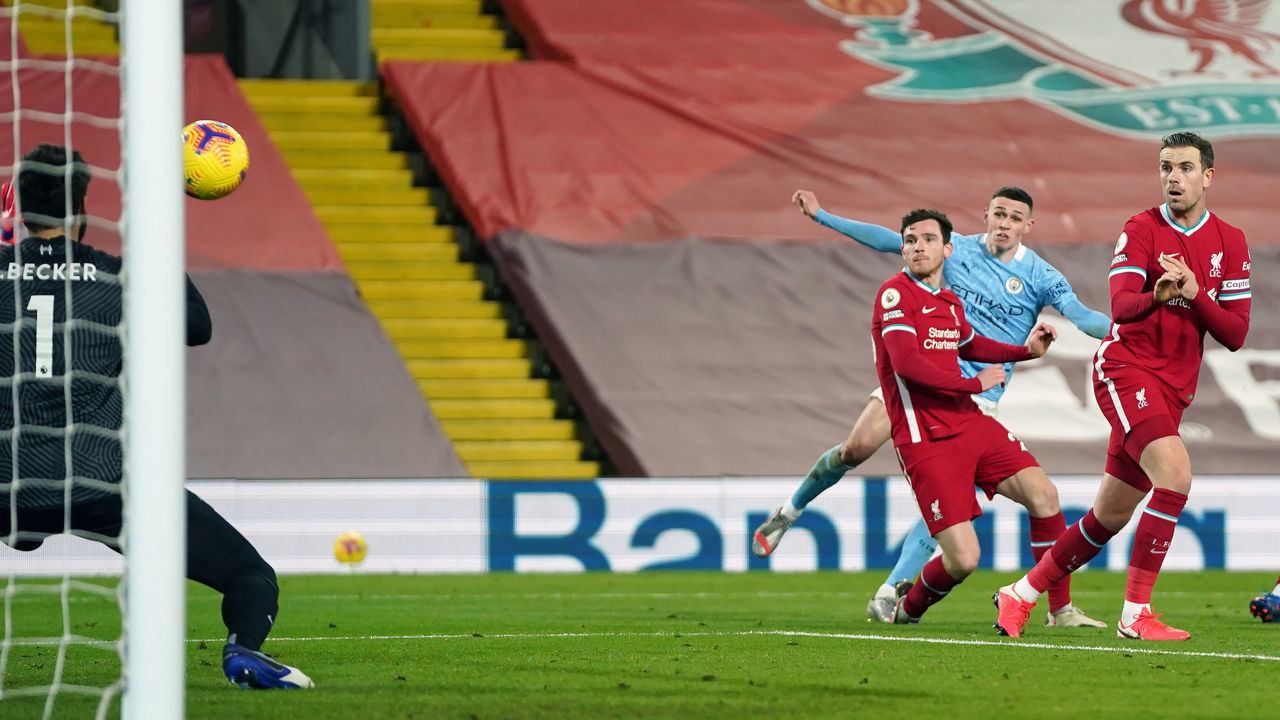 Gundogan overcame a disappointing first stanza – typified by his terrible penalty miss – with an authoritative second-half showing. Raheem Sterling, often scapegoated for wasting gilt-edged chances, teased Liverpool's rearguard with a game-high four dribbles and rarely wasted possession. Bernardo Silva worked diligently in a range of positions.
Simply put, Guardiola's men look irresistible at the moment, and De Bruyne isn't even playing.
Can Alisson overcome City meltdown?
Anomalies, such as Manchester City's reliable center-back Ruben Dias conceding a penalty against Liverpool on Sunday, were front and center at Anfield.
But Alisson offered up the biggest collector's item of the night as his performance opened up the floodgates for City. In what looked like a homage to his predecessor, Loris Karius, the 'keeper experienced a stunning meltdown when it mattered most for Liverpool, whose hopes of defending the title are quickly fading.
Alisson lost the plot over the space of just three minutes, conceding two tallies as a result of two reckless passes. The usually reliable 28-year-old, who made his return following an illness, was clearly rattled and went on to concede another for City's fourth of the evening.
There's no way Alisson suffers the same fate as Karius, who famously saw his Reds career end shortly after a pair of embarrassing blunders in the 2018 Champions League final. However, there has to be some concern about Alisson's confidence and whether there are any lingering effects from this calamitous moment.
Has Big Sam made West Brom worse?
Sam Allardyce is on course for his first-ever relegation from the Premier League in his eighth top-flight job.
There's been scarce evidence of improvement since West Bromwich Albion unveiled him in mid-December. Over time, Allardyce's solitary win over Wolverhampton Wanderers appears to reflect the inadequacies of West Brom's opponent rather than their own strengths. The Dudley native is supposed to tighten up defenses, but the Baggies' backline is declining.
West Brom this season:
| Stat | Slaven Bilic | Sam Allardyce |
| --- | --- | --- |
| Matches | 13 | 10 |
| Wins | 1 | 1 |
| Losses | 8 | 7 |
| Goals for | 10 | 8 |
| Goals against | 26 | 28 |
And there's little to suggest the January arrivals will trigger a significant upturn in results. All we've seen from Okay Yokuslu is a crunching tackle on Lucas Moura minutes after his introduction in Sunday's 2-0 loss to Tottenham Hotspur; Robert Snodgrass' wonderful left foot seems to be offset by his struggles protecting the full-back behind him; and Mbaye Diagne needs service, like from the controversially benched Matheus Pereira, if he's to score and get West Brom out of trouble.
"All I can say is that I'm proud of never being relegated from the Premier League, it's a tag I don't want to lose," Allardyce said before the first match of his tenure. "It would kill me if it were to happen, I'd be massively upset."
Will loaning clubs have regrets?
Three days after Jesse Lingard's debut double for West Ham United, Joe Willock and Takumi Minamino notched fine goals for their temporary clubs – Newcastle United and Southampton – inside a 15-minute window at St James' Park on Saturday.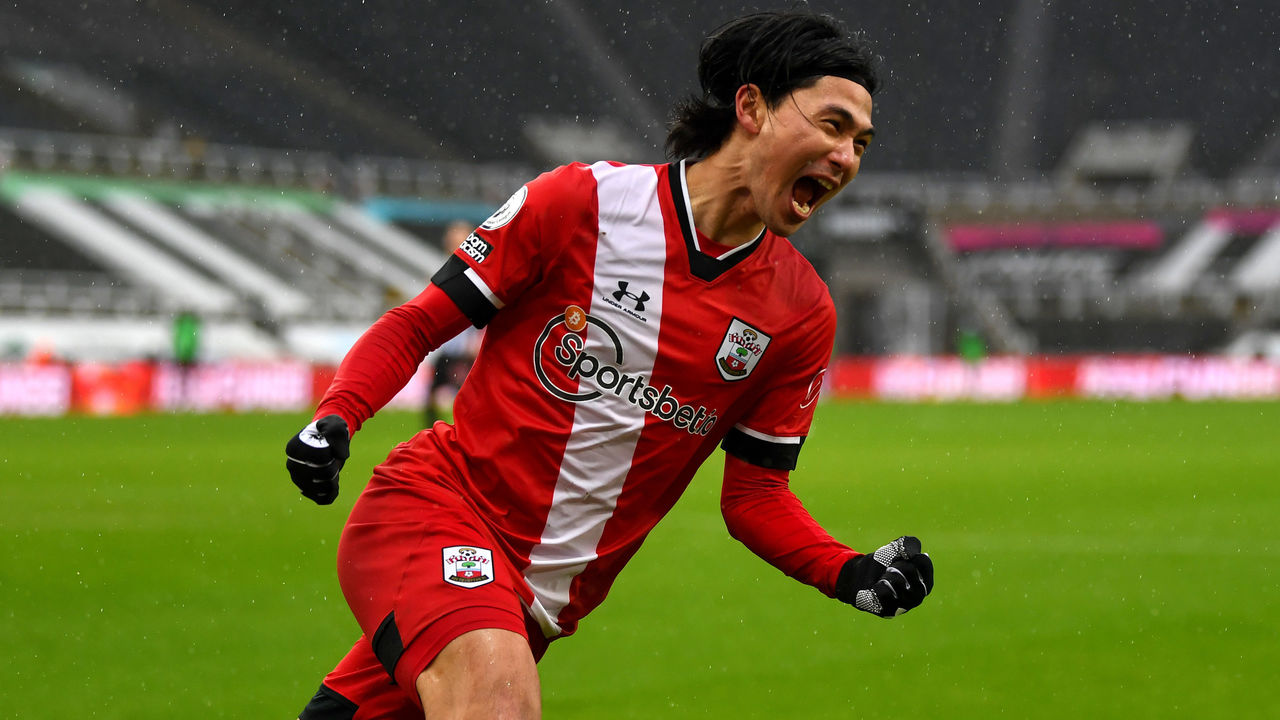 And each of that trio's parent clubs – Manchester United, Arsenal, and Liverpool – took one point between them over the weekend.
The early successes of the loan spells of Minamino, Willock, and Lingard are indicators of the depth that some of England's traditional powerhouses possess, but it could also hint at an awry transfer policy at each club.
Minamino's chances at Liverpool have been fleeting so far, but the quality and decisiveness of his strike at Newcastle is something the Reds have been craving of late. Couldn't Jurgen Klopp find a role for the Japanese attacker? Willock and Lingard, meanwhile, don't seem to fit in their employers' current tactical setups, but certainly offer something different – perhaps a crucial Plan B – to what's left behind in the squads of Mikel Arteta and Solskjaer.
United, Liverpool, and Arsenal could all be looking longingly at their loaned-out stars over the coming months.
Mike Dean: Good or bad for the game?
Mike Dean outdid himself this weekend with the red card he showed to West Ham's Tomas Soucek in the waning moments of the Hammers' goalless draw with Fulham. It was clear to everyone that the angular midfielder innocuously raised his arm when his elbow lightly grazed Aleksandar Mitrovic while the pair were standing on the edge of the penalty area, anticipating a free-kick. Even Mitrovic, after initially going down theatrically, appeared to admit that the incident was accidental.
Dean, naturally, had other ideas.
After a lengthy review, he brandished a red card for Soucek. The Mike Dean Show was in full effect.
Questions need to be asked of Lee Mason, the VAR on the day, who suggested that Dean review the contact on the pitchside monitor, but the on-field referee made the decision to send Soucek off and potentially condemn him to a three-match ban.
Dean can't help himself, and he's doing a disservice to the game.
Source link