Newcastle United star Miguel Almiron's Player of the month SBC is one of the most straightforward in FIFA 23 Ultimate Team to complete this year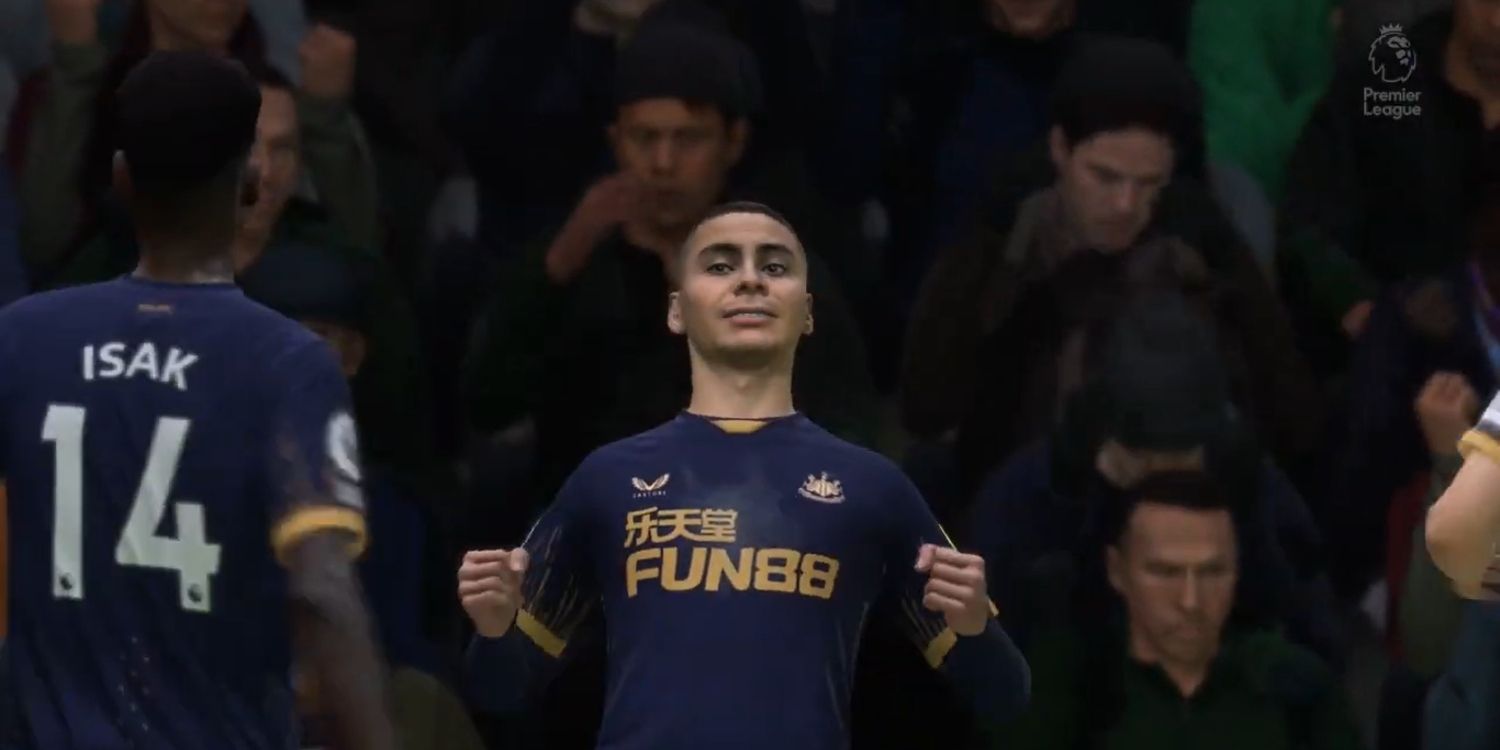 The latest Premier League Player of the Month was recently voted for by the public with Newcastle United's Miguel Almiron taking the honor and earning a promotional card in FIFA 23. Each month the winning players from the major football leagues are given an upgraded card in Ultimate Team that gamers can add to their club by completing a Squad Building Challenge group. The Newcastle star has had a fantastic October as the Magpies continued their climb up the table earning an upgraded card.
Squad Building Challenges allow players to trade in sets of unwanted players for packs and promotional cards such as Player Of The Month stars or Heroes. Almiron's updated card sees the Paraguayan given an 85 rating with great versatility. The card's default position is right wing, but with an item can be converted to right midfield, centre midfield, or attacking midfield, meaning it will fit perfectly across Premier League teams. Almiron's overall rating is up seven, with pace up seven to 93, and thanks to some brilliant goals in October a shooting stat up 11 to 82.
Related: FIFA 23 Ultimate Team: How To Earn Better Rewards In Squad Battles
How To Earn The POTM Miguel Almiron Card
Man-City.png" data-modal-id="single-image-modal" data-modal-container-id="single-image-modal-container" data-img-caption="""">
To earn the Newcastle wingers promotional card players will need to submit two squads to complete the group. One is a standard squad, with the second being based on the Premier League. However, for a Player Of The Month SBC the requirements are much easier and cheaper than normal, with a projected cost of 80,000 coins if players are buying two teams from scratch. Completing SBC's are one of the key tips and tricks for beginner players in Ultimate Team on FIFA 23.
Requirements
Reward
Top Form

Minimum One Team Of The Week Player
Minimum Team Rating 84

Small Gold Players Pack
Premier League

Minimum One Player From the Premier League
Minimum Team Rating 85

Jumbo Premium Gold Pack
If players have taken untradeable rewards since the launch of FIFA 23 it will be possible to complete the SBC's using cards already in Ultimate Team clubs. Players also receive the bonus of a small gold players pack and a jumbo premium gold pack which could further pad Ultimate Team squads. Due to the drop in prices of players on the market 84 and 85-rated cards can be purchased for just a few thousand coins each and will make up the majority of the SBC squads needed.
With basically no requirements this is an SBC that all FIFA 23 players should be able to complete. The Newcastle star might not be able to match the best players in FIFA 23, but the upgraded promotional card has a lot to offer. Almiron's is one of the most straightforward Player Of The Month SBC's in FIFA 23 to complete this year, but it is worth doing for a big upgrade and one which is useable in Premier League-based teams.
Next: The Best Players To Make Lengthy in FIFA 23
FIFA 23

Franchise:

FIFA

Platform:

Microsoft Windows, Nintendo Switch, PlayStation 4, PlayStation 5, Xbox One, Xbox Series X/S, Stadia

Original Release Date:

2022-09-30

Developer:

EA Vancouver, EA Romania

Publisher:

EA Sports

Genre:

Sports

Multiplayer:

Local Multiplayer, Local Co-Op, Online Multiplayer

ESRB:

E

Summary:

The next in the yearly installments of EA's FIFA franchise, FIFA 23 returns as the final entry in the franchise under the association's name. The 2023 entry will bring back the Ultimate FUT features and will feature crossplay for many modes except for Co-op modes. In addition, Fifa 23 utilizes a new system engine known as "HyperMotion2," which analyzes data from real football matches to create an extensive array of animations for players in-game to create a more realistic experience. In addition to these features, FIFA 23 will include both World Cup modes for both men and women. This entry also includes Women's club football, starting with two real-life teams and adding more as the game's seasons advance. Sam Kerr will also be the first female athlete to appear on a FIFA cover. After FIFA 23, EA Sports will continue their Football games under the new moniker "EA Sports FC."

Prequel:

FIFA 22

Mode:

Single Player, Multiplayer