The Premier League returns after the World Cup which could keep players and FPL managers ready to retain their momentum and we are here to help you with your team in gameweek 22 of FPL 2022/23 along with the tips and team selection
These players have already proven their worth in the initial weeks and could help your FPL team elevate in the second half of the tournament.
Here is our fantasy dream team for game week 22 of the FPL 2022-23.
FPL 2022/23 Gameweek (GW) 22 Team Selection, Best Tips, Fixtures, Draft And Squad Captain Picks, Defenders, Midfielder, Forwards Transfers
YOU CAN JOIN US – FPL League Code: 8mbuug
Goal-keeper
Kepa Arrizabalaga ( Chelsea – £4.6m) managed to find his 6th clean sheet of the season with 12 saves in the last 4 games which could allow him to build a similar momentum against Fulham this week.
Defenders
Kieran Trippier ( Newcastle – £6.0m) added his 8th clean sheet in a row with amazing responsibility and determination to help the backline added with his attacking potential that should keep him focused on maintaining his side in the tournament.
William Saliba ( Arsenal– £5.3m) can showcase amazing fighting spirit to help the team create attacking chances which earned him 2 goals and 1 assist that could be retained this week.
Sven Botman ( Newcastle – £4.5m) is also an important budget defender who has delivered with promise that could keep him focused on helping the team with his anchor defensive role.
Midfielders
Mohamed Salah ( Liverpool – £12.8m) continued with a scoreless round of fixtures to make it 4 games without a goal or an assist that should keep him motivated to fight back against the Wolves.
Riyad Maharez ( Manchester City – £7.6m) provided his 5th assist of the season to maintain a composed form that could help his team push for a winning form as the situation gets tense to reach the top of the table.
Gabriel Martinelli ( Arsenal – £6.7m) holds 7 goals and 5 assists to his name this season but has not managed to make any attacking contributions in the last 3 games which can be worked on this game week.
Miguel Almiron ( Newcastle United – £5.8) will be highly focused on retaining his goal-scoring form after missing out on close chances in the recent games which could bring out the best in him as they face West Ham.
Kevin De Bruyne ( Manchester City – £12.5m) added his 12th assist of the season and seems to be a crucial part of the manager's plan which could raise confidence levels for the challenge that lies ahead.
Forwards
Eddie Nketiah ( Arsenal – £6.6m) proved to be an important addition in the last match after scoring 2 goals in the last match against Manchester United which could continue with a stronger mentality against Everton this game week.
Erling Haaland ( Manchester City – £12.2 m) scored his 4th hattrick of the season to take his overall total to 25 goals which could keep him motivated to face Tottenham as our prime choice for this encounter.
Substitutes
Danny Ward ( Leicester City – £4.1m) will be on the bench as they face Aston Villa this week.
Aleksandar Mitrovic ( Fulham – £7.1m) has scored 11 goals in the tournament and will be an important first substitute as they face Chelsea this game week.
Daniel Amartey ( Leicester – £4.2m) is nailed to play consistent matches which makes him an important performer as our second substitute.
Hugo Bueno ( Wolves – £3.9m) will be our final substitute as they face Liverpool this week.
Captain And Vice-Captain FPL GW 22
Erling Haaland is our captain because of his growing momentum which could keep him motivated for this match.
Kevin de Bruyne will be our vice-captain because of his ability to push for attacking contributions in tougher games.
Fantasy Premier League Team GW 22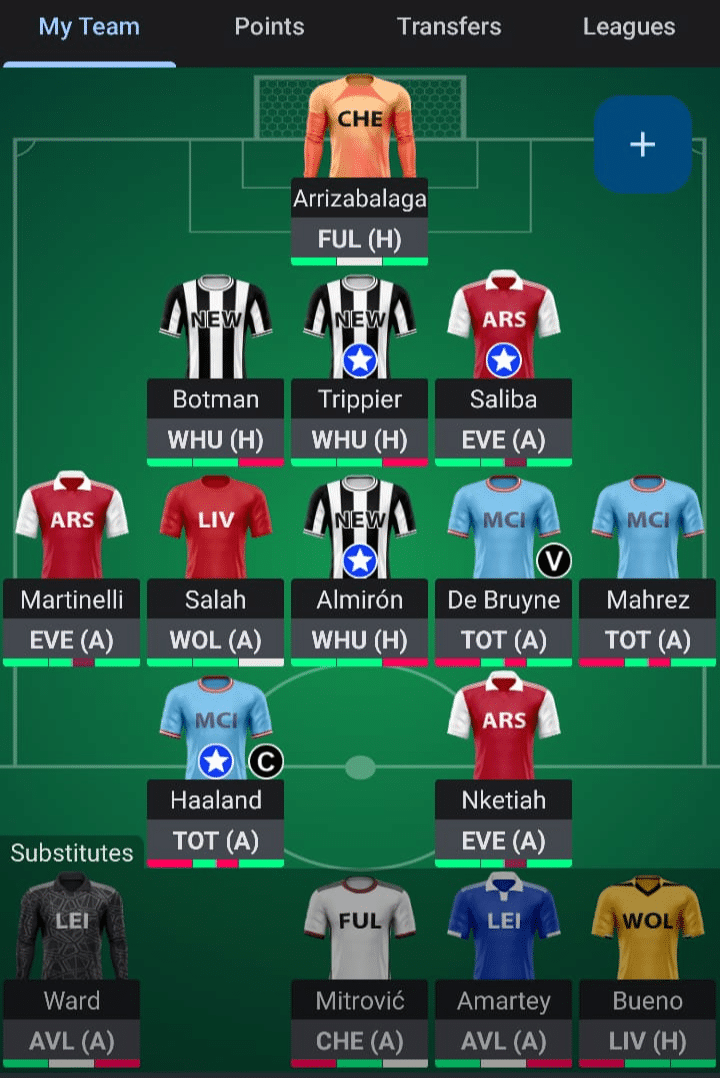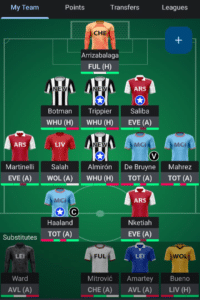 Arrizabalaga (GK), Trippier, Saliba, Botman, Salah, De Bruyne (VC), Martinelli, Mahrez, Almiron, Nketiah, Haaland (C)
Subs: Ward (GK), Mitrovic, Amartey, Bueno
Auto Join FPL: https://fantasy.premierleague.com/leagues/auto-join/8mbuug
ALSO READ: Danny Ings injury update and return date news as new West Ham striker is injured on debut
Recommended: Sports Fan App