"Behind every kick of the ball there has to be a thought" – that's what Dennis Bergkamp once said, and it feels more apt than ever when looking at the FIFA franchise. For the last few years, FIFA has grown stale, failing to innovate in its modes while relying on an ageing engine and a continuing push to microtransactions in its most popular mode. It's felt as though FIFA has just been kicking about, with no thought whatsoever. But, for the first time in years, FIFA 22 feels like it just might be turning the corner with a nod to the community and the game's fans.
Note: The majority of this review refers to the PS5 version of the game, with some references to the PS4 version in the gameplay section.
Let's get the easy bits out the way first – FIFA 22 looks and plays incredibly on the PS5. The 4K upgraded visuals look so much better than I could have ever imagined. For years I have praised EA's ability to make excellent looking stadiums and for utilising its license monopoly, but the player likenesses have always been a bit disappointing. That is no longer the case, with player models looking absolutely spectacular and lifelike. It's been a long time since I paused a game to look at player features in slow motion, but I found myself doing so over and over.
For the melophiles out there, FIFA 22 boasts a massive lineup of over 122 tracks to cycle through while playing the game. It may not be the music that hits the heights of Blur's Song 2, or Chumbawamba's Tubthumping, but there is more than enough variety and quality to ensure that you don't get annoyed by the same music over and over. Another tip to the community is the freshening up of the commentary team. Lee Dixon (praise your chosen deity) has thankfully left the game and is replaced by Steward Robson who joins Derek Rae in what seems to be a much more authentic representation of commentary rather than repetitive and annoying comments. Alex Scott makes history by becoming the first female commentator in the game and is a welcome choice adding a new dynamic to the commentary team. While there are still instances where the commentators say the completely wrong thing, it does feel a lot more organic.
Volta returns but seems to have even less focus than before. This time there is no story integrated, and instead, you just play the mode online or offline, with a friend or alone. It's probably for the best as the mode has not done much in the years of its inclusion, and while it can be fun to take to the courts and show off some skills, it's little more than a distraction – even if you look to unlock all the different styles and goodies (through in-game currency and not real money thankfully). Other returning modes that haven't seen fundamental changes include the ever-popular Pro Clubs, Seasons Mode and your standard quick play friendlies.
One mode that has seen a massive change is the Career Mode. FIFA players are generally split into two types – those that run straight to the Ultimate Team mode, and those that go for the offline Career Mode. Those that play Career mode have been left frustrated over the past four years or so with the mode adding nothing of real value in terms of its gameplay or focus. The community has been crying out for drastic changes in the mode and one of the biggest requests has been to include an option to create your own club in career mode and establish that team in the world of football.
The "create-a-club" option is finally included in FIFA as a new option and adds a huge dimension to the FIFA setup. It's baffling as to how this hasn't been included previously, but it's a big step to finally offer the option. There's a lot of detail in it too as you create your club, give it a nickname, design your kit and emblem and even elements of your clubs status, funding and so on. Starting with a bunch of no-name players you get the job of taking them to the top. It's honestly a great move from EA and feels like a completely new experience when playing Career mode this way rather than just taking an established team. Well done EA (it's about time)!
The other options in Career mode return allow you to manage an existing club, or start as a player and move through your career before moving to a coaching or managerial position should you wish after retiring. All three options in Career mode add a lot of longevity to the offline experience of FIFA and managing a team has never been so fulfilling in FIFA before.
FIFA Ultimate Team has been polarizing over the past few years, the massive "build-a-team" has undergone a massive transition since 2019 but has had as many misses as hits. It's hard to gauge exactly how Ultimate Team will be this early on as the meta is still being discovered and there aren't that many people playing just yet. From my initial experience, Ultimate Team seems to be off to a good start. There is enough offline and online content there to keep you busy for weeks as you start your journey. EA has once again seemingly listened to its community with a changeup in terms of rewards and the structure of the online modes.
Rivals and FUT Champs have felt incredibly unrewarding in the past few editions, but the new format makes it a lot more accessible and a lot less frustrating. Rivals now has everyone starting in Division 10 every season (which typically lasts a couple of months) and every win has you moving divisions with each one yielding better rewards. There are also checkpoints which means if you go on a bad losing run you can only regress so far back. This not only allows more casual players to still get good rewards it also prevents those annoying top players from relegating themselves to get easier games.
Squad battles work the same as before but thankfully, do have an improved reward structure. FUT Champs has not started at the time of review, and won't be live for a few weeks still, but we do know that it's going to have a much more accessible format too with a playoff section and a "Finals" section. Hard to tell exactly, but for now, it appears as though FUT is in for its best year yet, although a large part of that depends on the quality of content released by EA, and how much they control the market.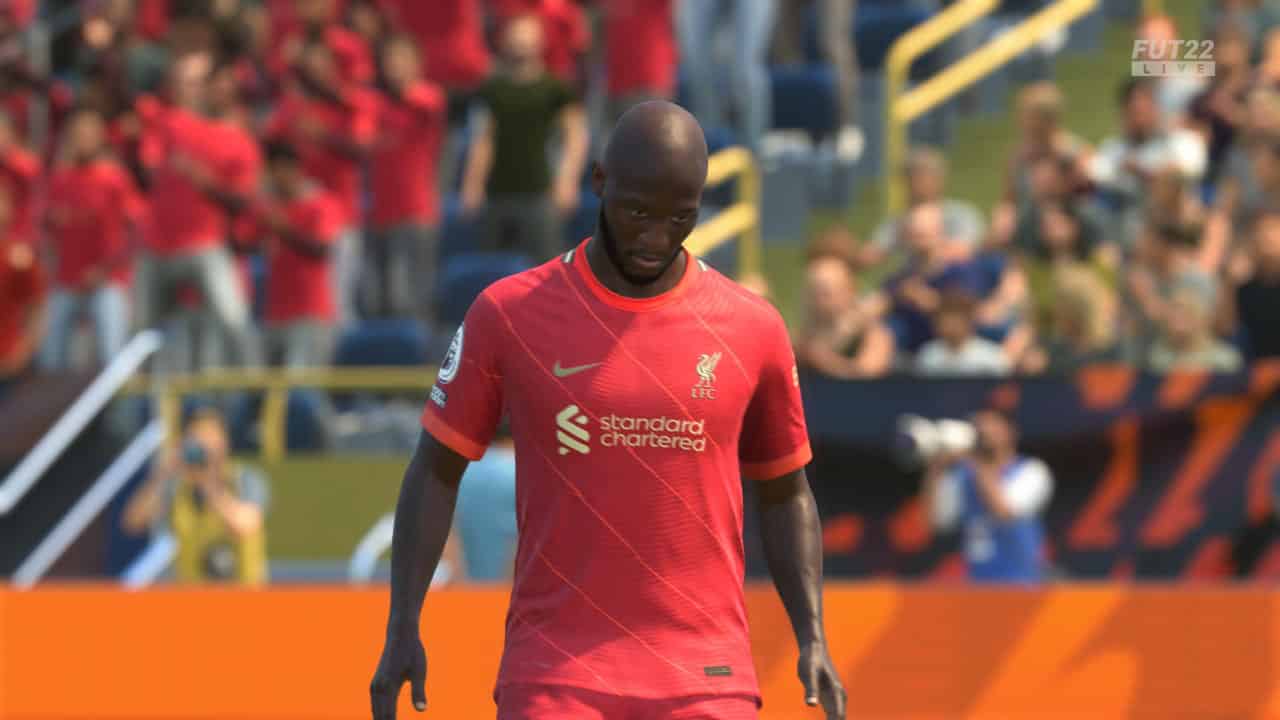 Of course, the modes don't matter too much if the gameplay isn't good. FIFA 21 is probably my least favourite version of FIFA with its annoyingly boring and defensive meta, terrible servers and glitchy, frustrating online play. While it's difficult to determine what the meta will be for FIFA 22, the initial gameplay has been excellent.
Firstly, match stats are finally included in the game with a lot of detail showing a player's touch map, the now-famous XG, where key passes are made, where shots are taken from and a whole lot more. For stat lovers and analysts, this is a most welcome addition.
The PS5 and Xbox Series versions of FIFA 22 benefit from the new "Hypermotion Technology" whereby the development team used full 11v11 match capture to improve the gameplay to the point where it feels like a far more realistic representation of the real game of football. This technology adds over 4000 new animations and rewrites the way the game plays and feels. I will admit that I was sceptical of this and put it down to the usual PR talk from EA, but I must confess that I am genuinely impressed by how smooth and authentic it feels.
Player movement is much smarter and your own team AI no longer makes ridiculous decisions that make you want to throw the control against the wall. Tackling seems to be the most improved of the lot with manual tackling proving more rewarding and no longer resulting in your opponent getting the ball back despite you making perfectly timed tackles. Through balls require a lot more precision which means passing has a larger skill gap and you can't just put hopeless through balls anywhere on the pitch and get them to work. Even goalkeepers seem to have an improved rewrite although we know that the exploits will eventually come.
Overall, the PS5 version of the game feels more authentic than ever before. The general flow of the game no longer has a pinball effect and the gameplay truly benefits from a slightly slower approach. While it's been difficult to find online games this early on, the matches I did play were smooth and suffered little from lag delays – hopefully, this remains when the servers are fuller.
A note on the PS4 version – There's a definite drop in quality in the PS4 version which feels almost identical to FIFA 21 unfortunately. There are definite upgrades in terms of the keepers and the less glitchy defending, but it certainly doesn't have the same quality as the PS5 version. Hypermotion Tech may not be the engine update that everyone has been clamouring for, but it does make a massive difference in terms of the gameplay when comparing it to the PS4 version.
FIFA 22 Review
FIFA 22 feels like the upgrade we have been waiting for and with Hypermotion Technology now in place we can look forward to a new engine soon. For now, the improvements to Career mode and commentary, the incredible visuals and all the new animations and gameplay flow, FIFA 22 has a refreshing feel to it. Ultimate Teams finally seems to address all the frustrations, and the microtransactions are less invasive than ever… if EA can ensure a quality content experience it will have an absolute monster of a game in FIFA 22. If you skipped FIFA 21 (lucky you) then FIFA 22 is a must, especially if you have moved to the new generation of consoles. Football is back, and feels better than ever!
This FIFA 21 review is based on a code sent to us by EA Games
Available On: PS4, PS5, Xbox One, Xbox Series X/S, PC, Switch | Reviewed On: PS5 | Release Date: 1 October 2021 | Price: R1,080