To ensure supporters are as prepared as possible for their arrival at the stadium, whilst also delivering the best and safest matchday experience possible, we've put together a handy guide on everything you need to know.
Supporters can also click here to download a detailed matchday guide, checklist and timetable so the first Molineux match with supporters for 442 days can go off without a hitch.
BEFORE HEADING TO MOLINEUX
Ahead of arriving at the stadium, there are certain things we ask ticket holders to compete while at home. These include:
Making use of the home testing kit provided

Read the code of conduct which has been emailed to each supporter

Complete the health questionnaire (otherwise your ticket will be deactivated)

Print your ticket or download it to your device

Check arrival period
Ticket holders are asked not to attend the game if you or a member of your household develops Covid-19 symptoms or returns a positive test.
There are certain items supporters are also asked to bring with them so they can be admitted into the stadium, including:
A face covering and a spare (if over the age of 11, if medically exempt email help@wolves.co.uk)

Hand sanitiser (max 50ml)

Bags smaller than A4 size or clear bags

Food and drink

Match ticket

Photo ID will be required to be shown for all supporters over the age of 16
Testing
Whilst it is not compulsory for supporters to have a test before attending the game, we strongly encourage all supporters to make use of widely available testing up to 48 hours before travelling to Molineux to ensure the safety of their fellow supporters.
To assist with this, the club have teamed up with Wolverhampton City Council to provide a home testing kit for every adult supporter with a ticket. Home testing kits will be posted directly to supporters ahead of the game.
Anyone who tests positive should contact the ticket office, who will arrange a full refund.
Supporters can find their nearest rapid test centre here: https://www.gov.uk/find-covid-19-lateral-flow-test-site
Health questionnaire
Each supporter must complete a health declaration questionnaire which will be emailed directly to them within 72 hours before attending the fixture. Fans who have not completed this will not be permitted into the stadium.
If you have any issues completing the questionnaire or have not received it yet, please contact the ticket office on ticketoffice@wolves.co.uk.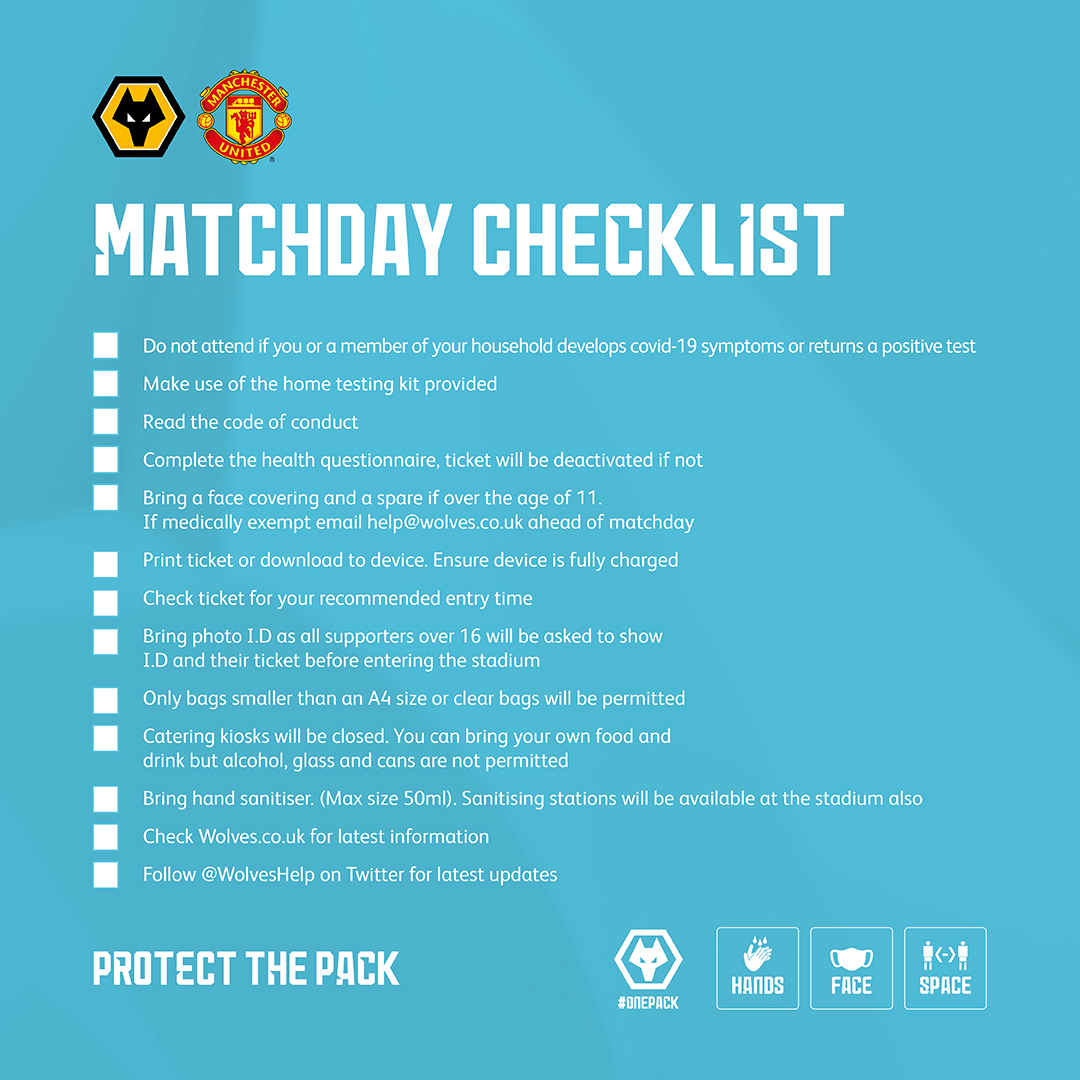 ARRIVING AT THE STADIUM
Staggered entry
Turnstiles will open 90 minutes before kick-off, however, supporters will be allocated a recommended arrival period based on the block and stand they are sitting in.
We ask supporters to check their tickets before arriving at Molineux within their allocated time slot wherever possible. This allows a staggered entry process to ensure social distancing is followed throughout the entry process.
One-way system
On arriving at the stadium, please observe the one-way systems where marked and follow stewards' instructions in all areas around the stadium. Information will be clearly marked on signage around the stadium.
Should you require any assistance before entering the ground, stewards will be located around the stadium to assist and collect feedback.
Social distancing
Under current UK Government guidance, social distancing of one metre plus should be observed, where possible. Please make every effort to remain 1m or more away from those not in your bubble at all times.
It is the responsibility of those attending matches to ensure this social distance is observed wherever possible, not only for fellow fans but for staff working at Molineux. This is for the safety of everyone inside the ground.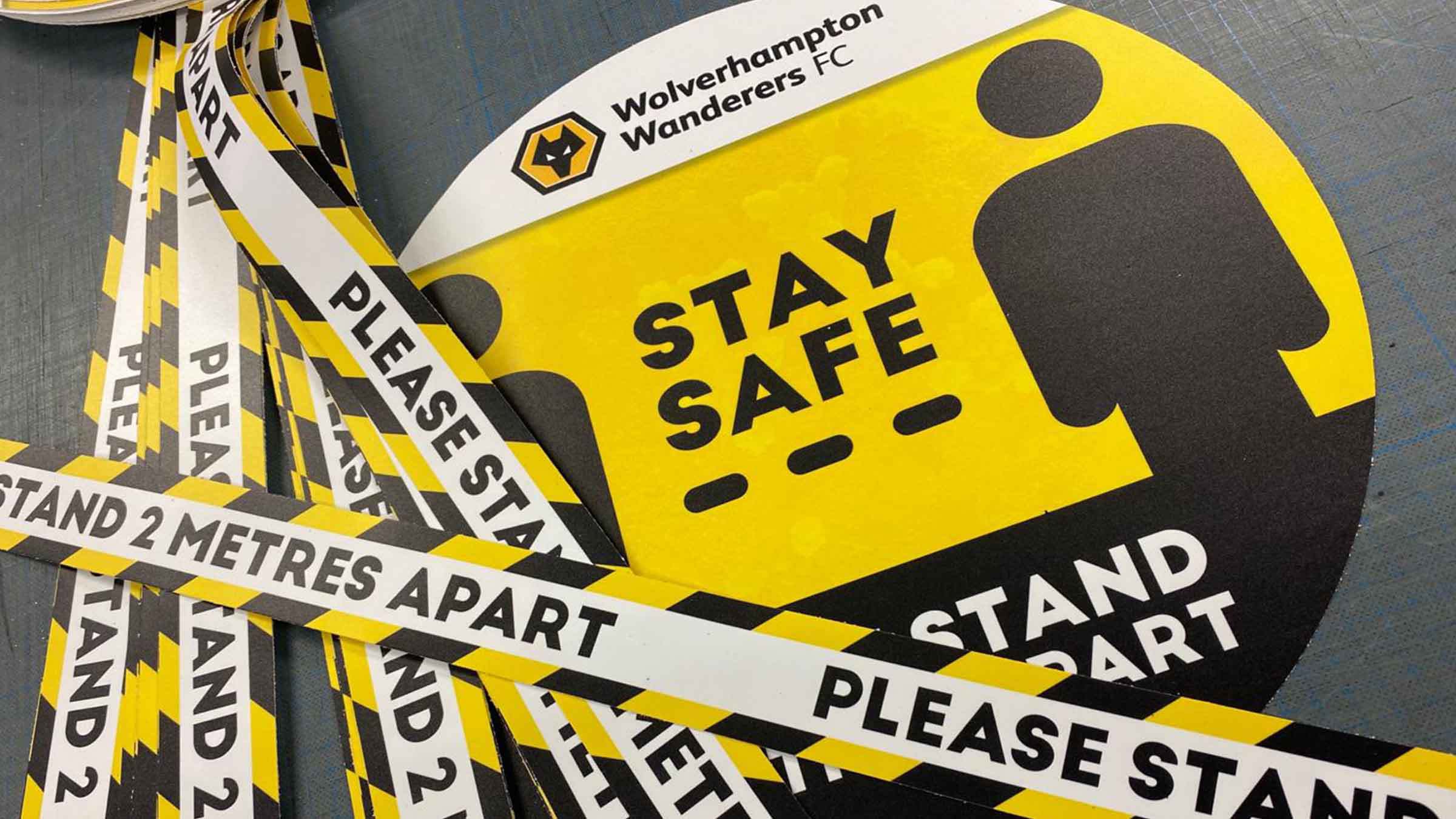 FACILITIES AT MOLINEUX
Food and drink
Due to the current social distancing guidance, and the space available within concourse areas, the club will be unable to open food and drink kiosks within the stadium.
Supporters will be permitted to bring their own food and drink into the stadium, however glass and cans will not permitted. For more information please check the prohibited items list here.
Toilets
Toilets inside the stadium will be open for supporters to use. Supporters are advised to observe one way systems within the concourse and to follow stewards instructions at all times.
There will be signage in the toilets in order to help maintain social distancing and identify any sinks or toilets that cannot be used.
Molineux Megastore
The Molineux Megastore will be open to the general public on the day of the game from 10am until 1pm. After 1pm the Megastore will remain open to supporters with a match ticket only.
The Megastore will then close at kick-off, before reopening at full time, and supporters will be required to wear a mask at all times inside the Megastore and may be asked to queue before entering to ensure that social distancing requirements are being met.
Special collector's edition matchday programmes – featuring 132 pages of bespoke content – will also be available to purchase at the Megastore on Sunday.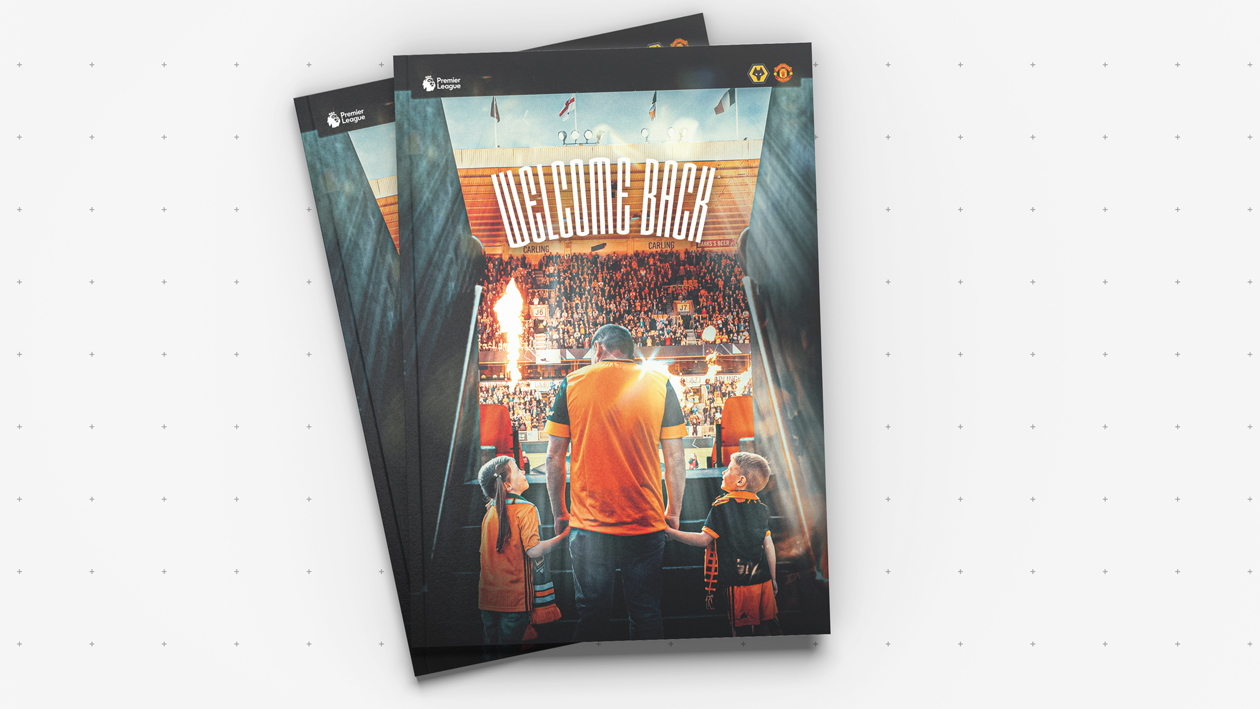 DURING THE MATCH
Supporters are requested to only sit in the seat with the seat number that matches their ticket and to remain in their seat whenever possible.
If you do need to leave your seat, wait for a time when the gangway is clear and always follow the signs indicating which way to go. When doing this, we ask that you mitigate risk by wearing a face covering and avoid face-to-face contact.
Pre-match
Pre-match entertainment will be provided for fans in the build up to kick off. Details will be provided, along with a useful matchday timetable, from the @WolvesHelp twitter account in the build to matchday and on the day of the game.
Half-time
Supporters are asked to remain in their seats during the half-time interval. If you do need to leave your seat please follow the guidance provided above and avoid queueing to use facilities wherever possible.
LEAVING THE STADIUM
Upon leaving the stadium it is important that all supporters continue to adhere to social distancing guidance. We ask that all fans follow signage and stewards instructions when exiting the stadium and surrounding areas.
Supporters may be asked to briefly remain seated at the end of the game in order to ensure social distance guidance is followed.
Lap of honour
Immediately after the game the players will stay on the pitch to show their appreciation to the fans following the end of the season. Supporters who wish to stay for the lap of appreciation should remain in their seats following the full-time whistle.
Supporters who do not wish to stay should follow stewards instructions when leaving at the full time whistle.
If travelling on public transport, please follow the guidelines of the transport provider you are using.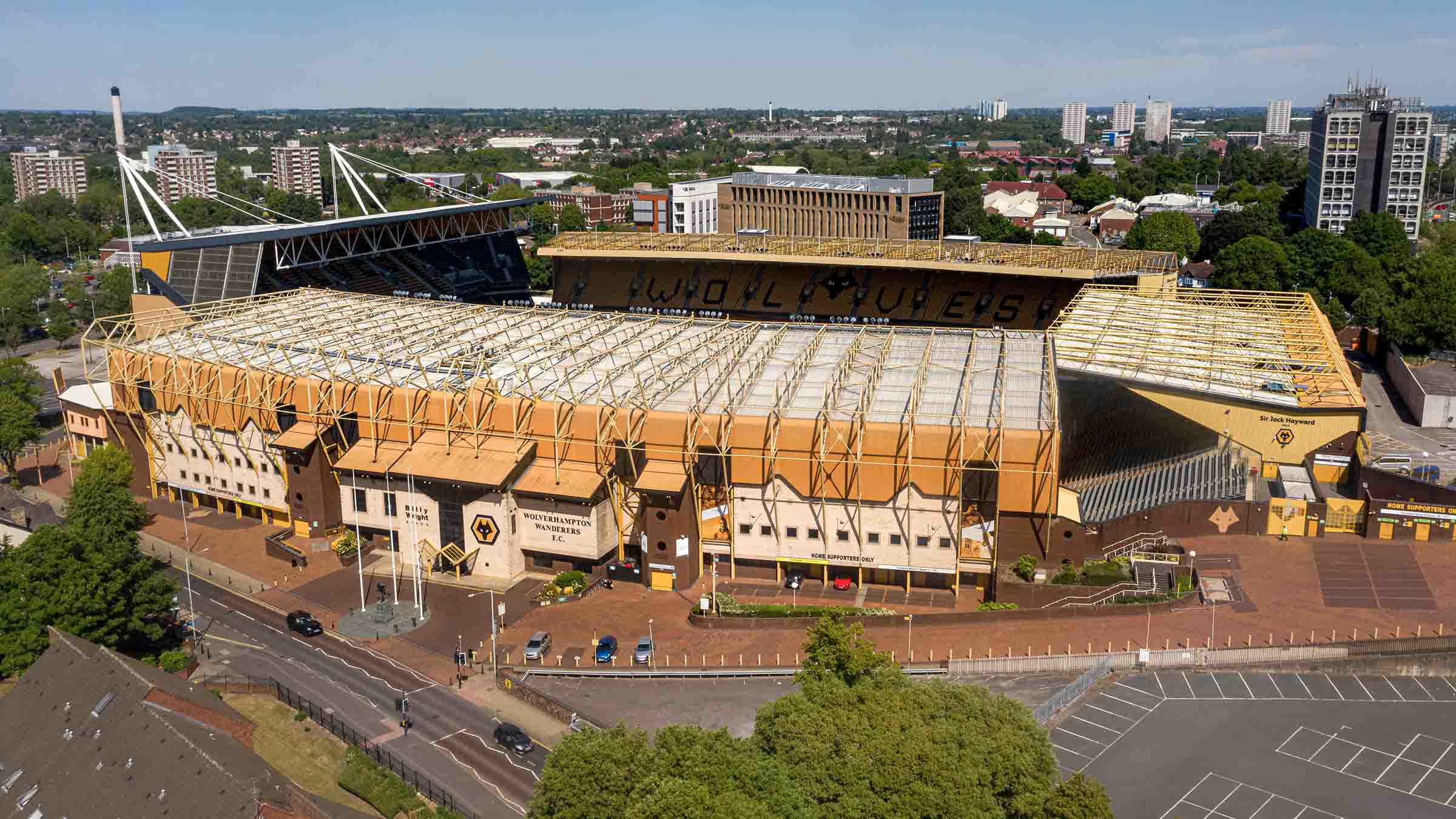 FURTHER ASSISTANCE
Detailed FAQs regarding the return of fans is available from Wolves Help by clicking here.
If you have any queries or concerns regarding matchday you can direct them to help@wolves.co.uk. Key information will be posted on the @WolvesHelp Twitter account leading up to and on the day of the game.
Stewards will also be located outside and inside the stadium on matchday. If you have any questions or concerns at the stadium, please speak with a steward who will be happy to assist you.