Gareth Southgate has hailed his England team for the "fabulous performance" they delivered against Germany and says their 2-0 win was deserved.
Despite several anxious moments, most notably when the excellent Jordan Pickford saved from Timo Werner and Kai Havertz either side of half-time, England booked their place in the last eight of Euro 2020 with late goals from Raheem Sterling and Harry Kane. The win was England's first over Germany in a knockout game since the 1966 World Cup final.
"We've talked about bringing enjoyment to the nation and afternoons like this are what that's about," Southgate told the BBC. "The players were immense, right the way through the team – and the fans were as well. Only 40,000 but it's as good an atmosphere as I can remember in Wembley.
"We played extremely well, we deserved the win, but I've had to say to them straight away, I'm the party pooper; if we don't capitalise on that on Saturday, it doesn't count for anything.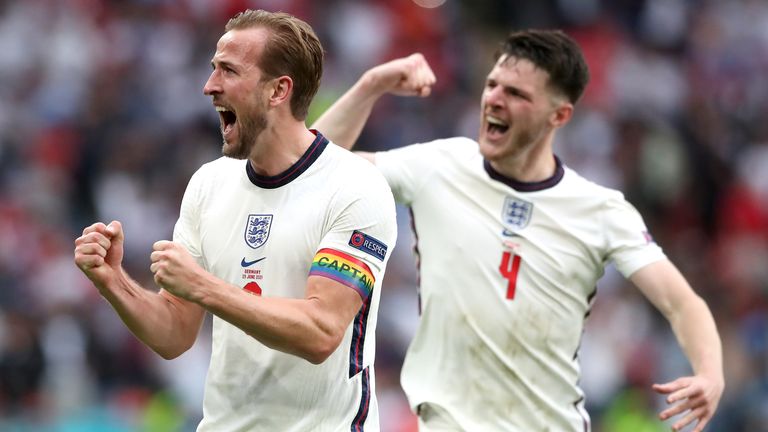 "You know that you change the shape, pick certain personnel instead of others, and if it goes wrong, you're dead. We had to go about it in the way we believed, we wanted aggressive pressure all over the field and felt matching them up was the way to do that.
"We felt the speed in behind Harry would cause them a problem, and I thought Saka and Sterling did that from the start. We know they were going to have moments of possession, they've got really good footballers, experienced players. The whole team defended, right the way through.
"It was a fabulous performance. I can't give enough credit to the players."
How the England team reacted to beating Germany
Raheem Sterling to BBC Sport: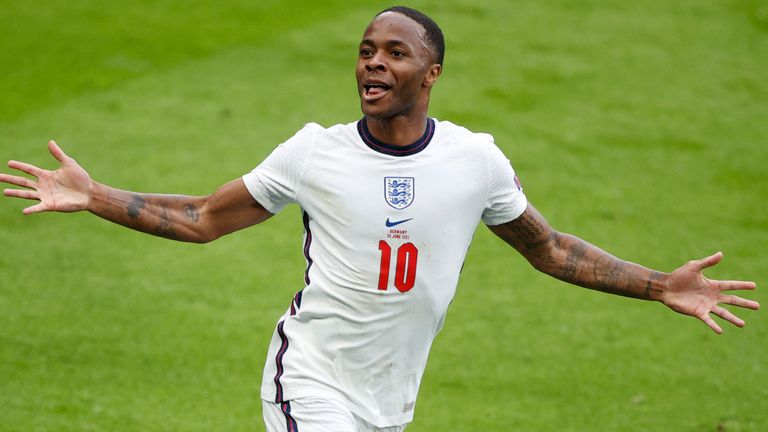 "We knew we needed a big performance against a difficult side, and we did that today. Doing it for your country is always special. For half a second I thought 'let it not be offside', but I'm so happy it went in.
"We knew the intensity we could play at, not a lot of teams can deal with it. We kept going, Rice and Phillips ate up ground and were animals in there. All-round, great team performance.
"We take it game by game, we go away, recover and get focused onto the next one."
Declan Rice to BBC Sport:
"It's incredible. A lot of people, you looked at the group stage games, had written us off with complaints about the performances, not scoring enough goals.
"But as players you put that to the back of your mind, and I think we did that today. With a full house, everyone had that fire in their belly, to go out there and for one knock Germany out of the tournament but for us, progress to the next round.
"It's history. In the press conferences we've all been asked about the previous games, but today we've created our own bit of history. Gary Neville was saying last night how these things don't come round often, but we've made the most of that opportunity. It was a pleasure to be out there on the pitch."
Jack Grealish to BBC Sport:
"I loved it. It's not about me, it's about the team, I just came on and tried to create. I've played a part in the first goal and made the second, so I think it was a good performance from me!
"The manager just told me to go out and express myself, play with a smile on my face, and I did that.
"It's hard for [Harry Kane]. He's our most talked-about player, our best player, teams are going to double up on him and try to get him out of the game. But when the game opened up at the end, when Luke gave it me I was going to shoot on my left, but I saw H in the box and crossed it for him."
Harry Maguire to BBC Sport:
"It's been a tough couple of years for everyone in this country, so to put smiles back on faces, we're not done yet – we've got another game on Saturday.
"We had to be brave on and off the ball, take it under pressure. We changed formation to put pressure on them with the ball, they like to play with possession, we wanted to go man-for-man all over the pitch and I thought apart from the first 10 minutes, we executed that well."