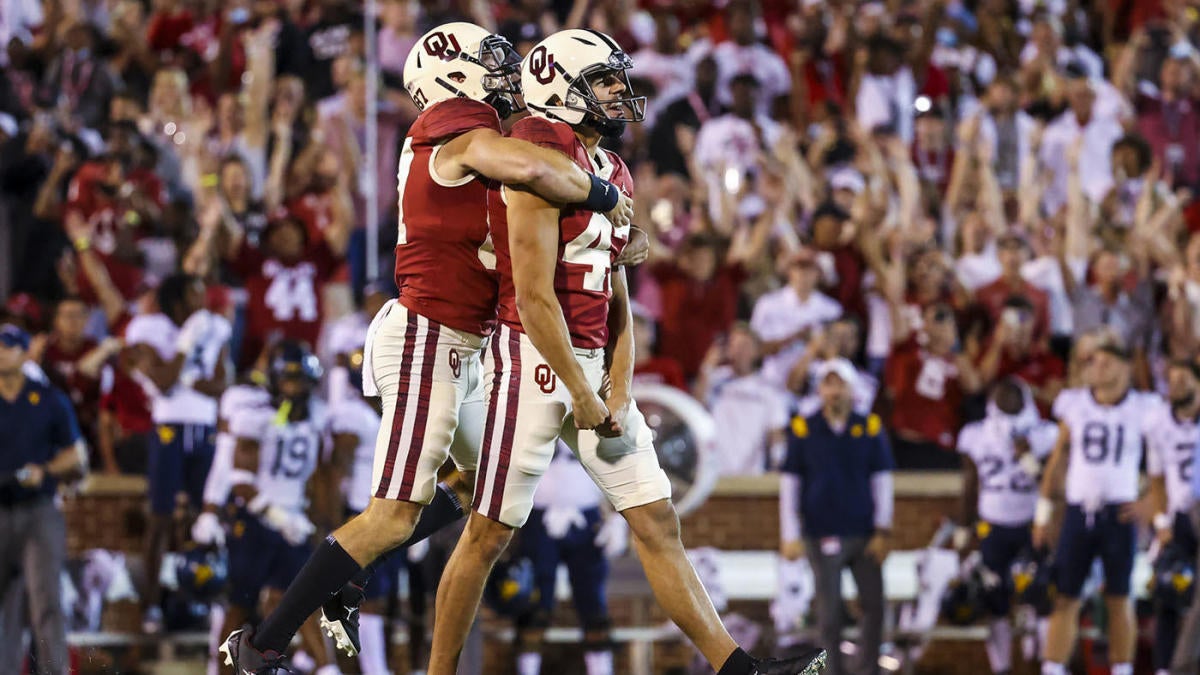 Both No. 3 Oregon and No. 4 Oklahoma received tough tests at home against unranked conference foes on Saturday night, but managed to escape with victories on a day full of upsets and close calls for ranked teams. Oregon defeated Arizona 41-19, but only after the Wildcats pulled within 24-19 late in the third quarter. Timely interceptions helped the Ducks improve to 4-0 as they picked off Arizona quarterback Jordan McCloud five times. Two of the interceptions came in the red zone, and another one was returned for a touchdown by Bennett Williams in the fourth quarter to put the game out of reach.
Earlier in the evening, Kicker Gabe Brkic drilled a 30-yard field goal as time expired to lift the Sooners to 4-0 with a 16-13 victory over a West Virginia team that gave QB Spencer Rattler and Co. fits all night with a stingy defense. When it mattered most, though, Rattler engineered a 72-yard drive to set up the game-winning kick, redeeming an otherwise underwhelming performance for the redshirt sophomore.
The tight games for both Oklahoma and Oregon demonstrated how few truly elite teams there appear to be at this point in the season. They were fortunate to avoid the same fate as fellow top-10 teams like No. 7 Texas A&M and No. 9 Clemson, both of which took losses Saturday as chaos enveloped the sport for much of the day.
CBS Sports was here every step of the way to update you with the latest scores, highlights and storylines throughout the night.
College football scores, schedule: Week 4
Boise State 27, Utah State 3 — Highlights
No. 12 Notre Dame 41, No. 18 Wisconsin 13 — Takeaways, highlights
LSU 28, Mississippi State 25 — Recap
Texas 70, Texas Tech 35 — Recap
No. 2 Georgia 62, Vanderbilt 0 — Recap
No. 16 Arkansas 20, No. 7 Texas A&M 10 — Takeaways, highlights
NC State 27, No. 9 Clemson 21 (2OT) — Takeaways
No. 19 Michigan 20, Rutgers 13 — Recap
No. 20 Michigan State 23, Nebraska 20 (OT) — Recap
No. 11 Florida 38, Tennessee 14 — Takeaways, highlights
No. 1 Alabama 63, Southern Miss 14 — Recap
No. 4 Oklahoma 16, West Virginia 13 — Recap
No. 3 Oregon 41, Arizona 19 — Recap
Check out the entire Week 4 scoreboard
Check these out …