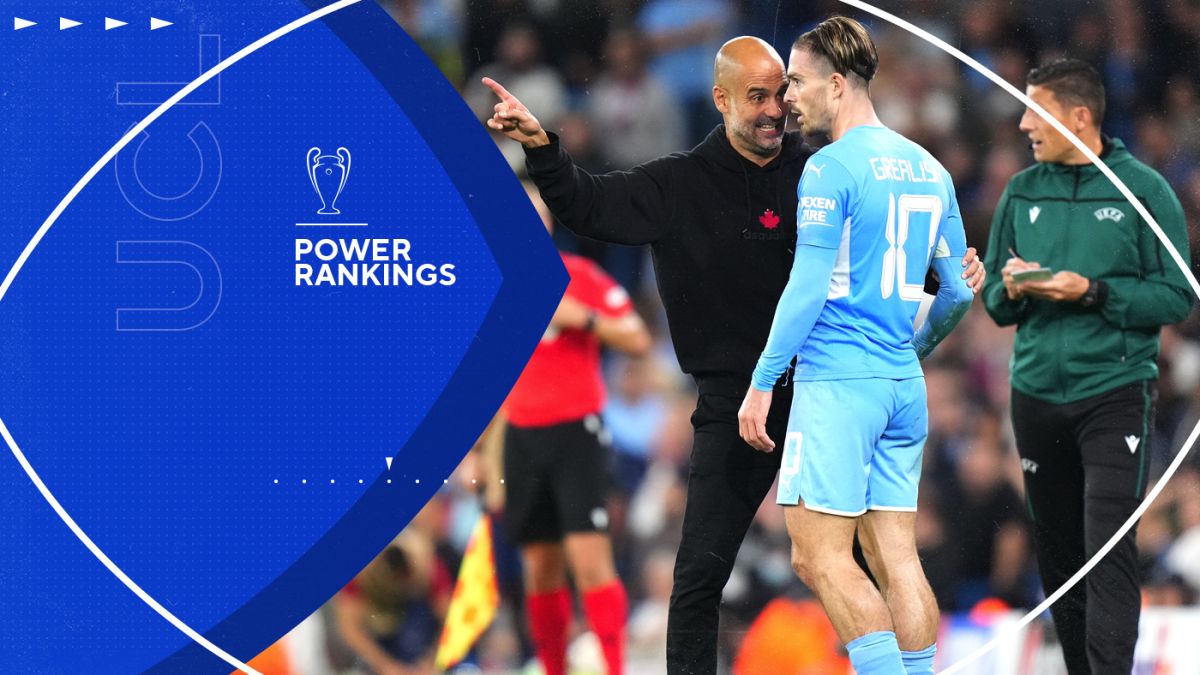 The Champions League returns to action this week on Paramount+ after a dramatic set of fixtures across Europe that included a rerun of last season's final, several shock defeats for contenders and — as always seems to be the case at the moment — a ruthless win for Bayern Munich. Let's see how those results have shaken up our power rankings:
The top tier: Title or bust
These teams should be disappointed with anything less than a semi final berth and frankly even that might not be enough, such is their talent profile.
1. Manchester City (up one)
Recent weeks of Chelsea ebullience have come back to bite this column but more on that in a moment. For now praise is of course warranted for Pep Guardiola's always intriguing outfit, who began a week of bruising away fixtures with a win at Chelsea that was more emphatic than the score 1-0 score. The 4-2-4 City used at Stamford Bridge could yet prove to be their default system in these big games; it has consistently worked without pure center forwards and with Kevin De Bruyne and Phil Foden as its nominal strikers offers an impressive blend of control, creation and pressure without the ball.
2. Chelsea (down one)
It was not a lightly taken decision to drop Chelsea off the top spot they have occupied since the start of these rankings. It is not just their tame performance in attack that cost them but the fact that their defense is not looking quite as invulnerable as it once did, all the more worrying as on Saturday it was shielded by N'Golo Kante, Jorginho and Mateo Kovacic. Through seven Premier League and Champions League games this season they have allowed opponents shots worth an average of 1.1 expected goals (xG) per game. Last season under Thomas Tuchel that number was just 0.6xG. They look a little more vulnerable at the moment, though that might go untested in a rather favorable group.
3. Liverpool (unchanged)
The most invigorating attacking outfit in Europe right now, Liverpool might have wobbled on the road to Brentford but their defense has the talent to ensure that a 3-3 draw is eventually viewed as an aberration. It should, however, be noted that there have been two of these sorts of high wire games in the last three for Jurgen Klopp's side, matches where they seem to be imposing themselves on their opposition but cannot turn a winning position into a comfortable match.
Serious contenders: If things go right, why not us?
It certainly is not beyond the realm of imagination that any of these teams could be lifting the European Cup in Istanbul come May, though it may require a few fortunate breaks for the tournament to go their way.
4. Bayern Munich (unchanged)
A thrilling 3-1 win over Greuter Furth showed how invigorating Bayern can be on the attack this season. In particular their left flank of Alphonso Davies and Leroy Sane seems to be composed of two players making real strides in their developments under Julian Nagelsmann. Per 90 minutes, Sane is averaging 2.43 chances created, 0.83 assists and 0.4 goals. He looks to be developing into the consistent scoresheet contributor he has rarely been in his career so far.
5. Paris Saint-Germain (unchanged)
It's the same old story in the French capital. PSG beat their Ligue 1 rivals in underwhelming fashion with at least one of the big three nowhere to be seen at a time where Mauricio Pochettino would surely want them to gain repetitions together. On Tuesday they will face a team with years of experience together. It is hard to make a convincing case for favoring the French leaders beyond mere talent.
Dark horses: Unlikely contenders, but contenders all the same
These teams are unlikely champions, but then so were Chelsea this time a year ago. It may take a change of circumstances like the Blues had when they appointed Thomas Tuchel, perhaps a new signing or the unearthing of a new tactical plan. It's possible, but certainly not probable.
6. Real Madrid (unchanged)
A 0-0 draw with Villarreal was a reminder that, for all the excitement that young forwards such as Vinicius Junior and Rodrygo have engendered, this more youthful iteration of Los Merengues is probably not yet ready to be the winning juggernaut of years gone by. It was at least cause for optimism that against a good opponent at the Bernabeu a Madrid defense that has not set the world alight early in the season kept a clean sheet.
7. Sevilla (up six)
Their balmy 1-1 draw with Red Bull Salzburg looks to be a complete outlier in a early season where Sevilla have shown impressive control across the pitch, conceding just three goals in La Liga and the Champions League whilst sharing the scoring burden across the side. A squad that incorporated the likes of Erik Lamela and Thomas Delaney whilst retaining Jules Kounde looks to have the right blend of experience and potential to achieve a great deal this season.
8. Borussia Dortmund (down one)
Dortmund have seen what life without Erling Haaland looks like, a 1-0 defeat to Borussia Monchengladbach serving to emphasize the extent to which the Norwegian is fundamental to his side's prospects in any given game. Though, they were certainly worse off without Marco Reus and Julian Brandt too. If Marco Rose has those three in his team for big Champions League games there is no reason why they cannot be expected to win.
9. Ajax (up two)
The Dutch champions are the burgeoning darlings of the analytics community this season with FiveThirtyEight going so far as to place them as third favorites to win the whole competition. If that seems particularly extreme it is at least possible to see why a team that creates chances for fun in Europe and the Eredivisie while rarely giving up opportunities at the other end should perform so strongly on statistical models. For those more suspicious of the underlying numbers, it is perhaps worth noting that there is many a holdover from the 2019 semi-finalists in Erik ten Hag's side along with potential breakout stars from Ryan Gravenberch to Antony.
10. Manchester United (down one)
Ole Gunnar Solskjaer's side have lost their last games in the Premier League, Champions League and EFL Cup. It is almost remarkable how swiftly they have become a team reliant on Cristiano Ronaldo for moments of magic (almost remarkable only because it seemed so inevitable the moment they signed him that any identity United might try to forge would be subsumed to the Ronaldo show). 
11. Atletico Madrid (down three)
It has been more than a fortnight since Diego Simeone's side scored against a team with their full complement of players. When your chief chance creators are tough tackling midfielders Geoffrey Kondogbia and Hector Herrera, as was the case in defeat to Alaves, it is perhaps unsurprising that goals are so hard to come by. Certainly AC Milan will feel now is the ideal moment to send Atleti collapsing down the Group B standings.
Knockout stage contenders
You will note here that there are slightly more contenders for the knockout stages than there will be teams in there. Welcome to the wonder of those teams battling for second spot in the groups. There will always be someone disappointed.
12. Inter Milan (up two)
Though they might not have won against Atalanta on Sunday, any skepticism about how the routed Serie A champions might cope this season ought to be fading away based on their early season performances under Simone Inzaghi. Across Europe's top five leagues only Bayern, Liverpool and Manchester City have a higher non-penalty xG per game than Inter who racked up 4.15 xG (including one penalty) in Saturday's draw.
13. Juventus (down two)
14. Wolfsburg (down two)
15. Atalanta (unchanged)
16. Barcelona (unchanged)
17. Benfica (up one)
Jorge Jesus' side look to be coalescing into a formidable defensive unit ahead of the visit of Barcelona to the Estadio da Luz. That much was apparent in the Champions League play off round where, down to 10 men with an hour to play in the second leg, they held PSV Eindhoven at bay and it has been no less clear early in the Portuguese season. Against an opponent that might still be light on attacking thrust, this could be Benfica's moment.
18. Villarreal (down one)

With seven league and European games played, Unai Emery's side are still undefeated. That's the good news. The bad is that they have only one win to their name. That they are still unbeaten after coming back from the Santiago Bernabeu merits praise although that should be caveated with the fact that they were comprehensively outplayed on the xG front, as was the case against Atletico Madrid. Only against Atalanta have they really looked a match for top tier opponents.
19. Red Bull Salzburg (unchanged)
20. RB Leipzig (unchanged)
In the mix for top two
A few fortunate breaks and they may find themselves extending their Champions League involvement beyond Christmas. Don't bet on it though.
21. AC Milan (up one)
22. Porto (up three)

Since their impressive draw with Atletico Madrid on the first Champions League matchday Sergio Conceicao's side have been taking impressive strides, thumping Moreirense at home before then picking up an impressive three points away to Gil Vicente with a late winner from Sergio Olivera. This is a team that looks to be picking up a head of steam at home and on the continent; they might just believe they can do to Liverpool what they have already done to Juventus and Atleti.
23. Sporting (down two)
24. Besiktas (down one)
25. Dynamo Kyiv (down one)
26. Sheriff Tiraspol (unchanged)
27. Shakhtar Donetsk (unchanged)
28. Lille (up two)
After a woeful start to their title defense Lille look to be turning things around with back to back 2-1 wins over Reims and Strasbourg. If the goals are still not coming as frequently as Jocelyn Gourvennec might hope there is at least cause for optimism in a robust backline that has allowed 0.99 xG per game in Ligue 1 and the Champions League this season. Never was it more effective than when Wolfsburg were kept to a paltry 0.07 xG in their European opener.
Likely chasing the Europa League
There are no bad teams in the Champions League but these five will do well to achieve much more than third place
29. Zenit Saint Petersburg (down one)
30. Young Boys (down one)
31. Club Brugge (unchanged)
32. Malmo (unchanged)