Cristiano Ronaldo sold, Gareth Bale's time at the club destined to come to an end, Karim Benzema edging towards his mid-30s, Eden Hazard…overweight AND injured – Real Madrid are in desperate need of a new galactico.
Los Blancos' roster has boasted a superstar since anyone cares to remember, yet with the aforementioned players either moving on or seeing their powers begin to wane, the need for the arrival of a wonderkid at the Santiago Bernabéu is clear.
Spanish journalist Josep Pedrerol (via El Chiringuito de Jugones) reports that Zinedine Zidane will welcome either Borussia Dortmund's Erling Haaland or Paris Saint-Germain's Kylian Mbappe to the club this summer.
But which one should they sign? We've analysed both players and broken down the main factors to consider into separate sections before picking the player best suited to the move. You're welcome.
First of all, let's get the boring numbers out of the way.
Real are hardly in a position of financial power at the moment and their days of throwing blank cheques at clubs have long gone, so the cheaper option may well be the best option when considering the two respective players.
Mbappe's contract with PSG has just 18 months left to run, however, the French champions are in no mood to entertain offers for the youngster and have slapped a £140m price tag on his head.
Meanwhile, Dortmund look to be in a position of power when it comes to negotiations over their frontman. Haaland's deal at the club isn't set to expire until 2024, but there's a sting in the tail: the Norway international reportedly has a clause in his contract which will see him become available for just £68m in summer 2022, meaning Dortmund are understood to be willing to sell for £100m.
Better option: Haaland
Both of these players have already stacked up some eye-watering numbers despite their respective careers still being in their infancy, but which of the pair is most prolific?
In Ligue 1, Mbappe has scored 96 goals in 137 games, meaning he averages a goal every 1.42 games. Meanwhile, in Haaland's various stints across different top-flight European leagues, he's scored 58 in 85 games, meaning he averages a goal ever 1.46 games – a marginally worse goals-per-game record.
However, there is of course the argument that some leagues are more difficult than others. If only there was a competition which they both played in that we could use to compare their goalscoring stats, y'know, like the Champions League.
Mbappe has 21 goals in his 40 Champions League outings, while Haaland has scored an incredible 16 goals in 12 Champions League games – we don't even need to do the maths to prove which strike rate is better.
Better option: Haaland
Make no mistake about it, regardless of the how big Dortmund and PSG are in their respective countries, moving to Real Madrid is a huge step up for both of these players.
Many before them have crumbled when tasked with representing one of the world's biggest club, so having the right mentality is key.
For all of his undoubted talent, Haaland's greatest achievement in the game so far is winning the Austrian Bundesliga with RB Salzburg, while Mbappe has won the World Cup and appeared in the Champions League final.
We're not saying that Haaland doesn't have the personality to step up to the highest level, just that Mbappe definitely does.
Better option: Mbappe
And last but not least, we answer the question; who has the greatest potential?
There really isn't much in this one. Both players are already world beaters and will undoubtedly sit at the top of the footballing world for years to come, but in terms of development you'd have to argue that Haaland is currently playing against tougher opposition and is producing the goods in a weaker team.
The Norway international is roughly 18 months younger than the Frenchman, and as trivial as that may seem, that can be the difference in tens of millions when it comes to resell value should Real look to move their man on at some stage.
Better option: Haaland
It's pretty clear who wins this one.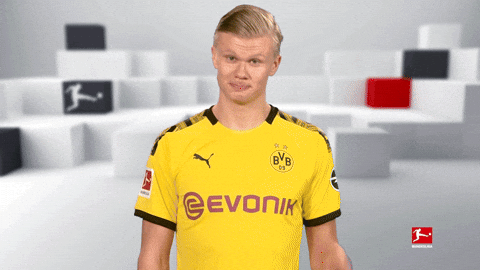 We don't think for a second that Mbappe represents bad business by Real, and he would undoubtedly flourish given the platform at Real Madrid. However, Haaland is developing at an unbelievable rate, and the opportunity to snap him up for £100m isn't going to be around for long.
Winner: Haaland
Source link