Our alphabetical look at the history of West Ham United takes us to the letter T…
Testimonial Matches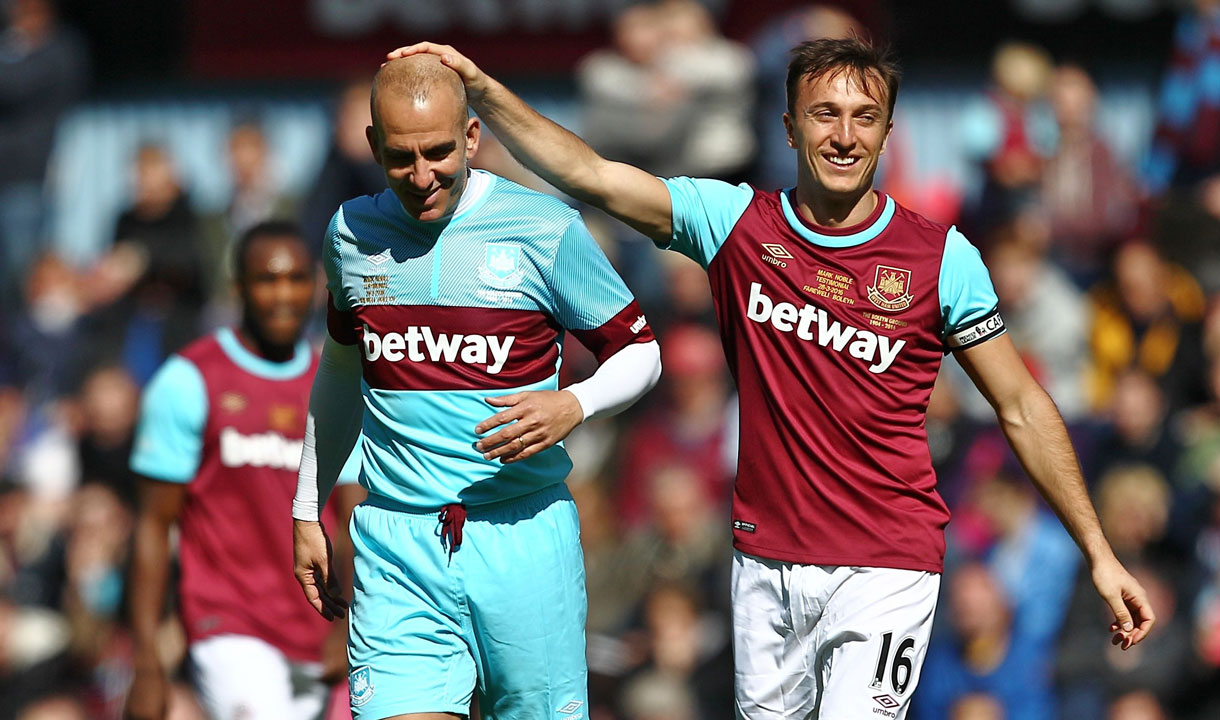 A succession of West Ham United figures has been rewarded for long service to the Club with Testimonial matches, with the proceeds traditionally going to the player or staff member.
However, in recent decades, the individuals involved have become more likely to donate the funds raised to charity or another worthy cause.
No fewer than 34 Testimonials have been awarded by the Hammers down the decades, the first of which was way back in December 1908.
Wing-half Tommy Allison, who spent six seasons in Claret and Blue between 1903-09, was granted the first of two benefit matches against Portsmouth at the Boleyn Ground. The second, in October 1912, saw Queens Park Rangers visit.
Between the two World Wars, long-serving former centre-back and coach Frank Piercy passed away in 1931, aged 51.
Piercy, who had played in the first-ever game at the Boleyn Ground in September 1904 and was the first player to appear 200 times for the Club, was awarded a posthumous Testimonial against an Isthmian League XI, with the proceeds going to his widow.
After the Second World War, further Testimonials were awarded to players and staff alike, but not always for long service.
After former player and manager Charlie Paynter had been honoured in September 1950, young players Geoff Hallas and Brian Moore were awarded a joint Testimonial match after both suffered head injuries that brought their careers to premature ends in October 1956.
Former Hammer Harry Hooper, then with Wolverhampton Wanderers, and future West Ham forward, Vic Keeble, then with Newcastle United, were both on target against the Irons in a 3-3 draw at the Boleyn Ground.
Former captains Dick Walker and Malcolm Allison came next, followed by long-serving goalkeeper and coach Ernie Gregory, who would amazingly remain with the club for nearly 30 years after his Testimonial match in 1960!
Future manager John Lyall was also awarded a Testimonial after injury ended his playing career, followed by 1964 FA Cup winners John Bond, Ken Brown, Bobby Moore and Ronnie Boyce.
Another player whose career was ended by injury, Paul Heffer, came next, followed by the scout who recruited the Irons' cup-winning stars, Wally St. Pier, who celebrated by welcoming many of his them back to the Boleyn days after the Hammers' FA Cup final success in May 1975.
Three 1975 FA Cup winners – Frank Lampard, Trevor Brooking and captain Billy Bonds – followed, with the latter later enjoying a second Testimonial in 1990.
Goalkeeper Bobby Ferguson and winger Pat Holland were next to be recognised, before former player and administrator Eddie Chapman celebrated 49 years of service in 1987.
The 1980 FA Cup-winning team and Boys of '86 were next to be rewarded for their loyalty, with Geoff Pike, Alvin Martin – who would have a second Testimonial in 1995 – Alan Devonshire, Phil Parkes, Bonds, Ray Stewart, Paul Hilton and George Parris all hosting matches between 1988 and 1995.
After Steve Potts in 1997 and Julian Dicks in 2000, just one Testimonial has been held in the last 20 years, when Mark Noble famously filled the Boleyn Ground in 2016.
Tommy Tippett
Forward Tommy Tippett ended his career with West Ham United in the mid-1930s.
Born in Gateshead in 1904, Tippett reportedly kicked-off with the fantastically named Twizzell United as a youngster before spending time on the books of both Middlesbrough and Newcastle United without playing a Football League game for either club.
Tippett's senior breakthrough came at Doncaster Rovers before, at the age of 25, he suddenly became one of the most prolific forwards in the country with Rochdale.
Across two seasons, Tippett scored 47 goals in 70 Third Division North games, earning a move to Second Division Port Vale in 1931. After two seasons in the Potteries, he joined West Ham at the age of 29 in 1933.
Tippett scored eight times in 22 games in his first season in Claret and Blue, including two in a 5-1 Second Division win over Plymouth Argyle at the Boleyn Ground in September 1933.
However, he found opportunities harder to come by in each of the next two seasons before departing in 1936. 
Train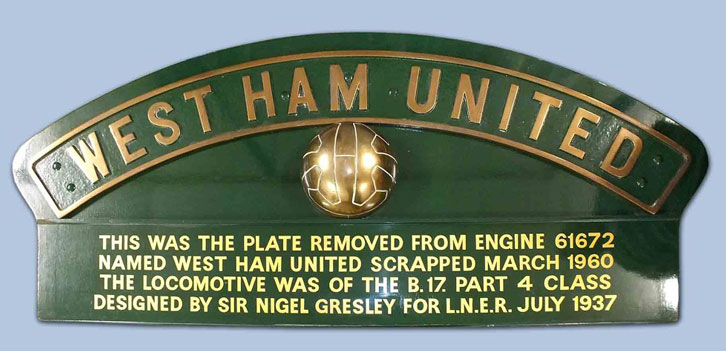 An old locomotive 'West Ham United' nameplate famously hung on a wall by the West Stand at the Boleyn Ground.
The nameplate was on display for 40 years before the stand was redeveloped in 2001, having previously adorned steam locomotive number 61672.
Designed by Sir Nigel Gresley for London North Eastern Railways (LNER), 'West Ham United' was one of 25 engines built in 1937 and named after football clubs.
The Class B17 locomotive hauled passenger services between London and Cambridge, Ipswich and Norwich for 13 years, but was later scrapped as the development of diesel and electric trains saw steam phased out.
The nameplate was presented to the Club in March 1960 and it was initially mounted on the wall alongside the West Stand turnstiles, before later being installed by the players' entrance.
The plaque was repainted in Claret and Blue from its original green and gold in the 1970s, while a board explaining its history was also added, which read: 'This was the plate removed from engine 61672, named West Ham United. Scrapped March 1960. The locomotive was of the B.17 part 4 Class, designed by Sir Nigel Gresley for LNER, July 1937.'
Following the renovation of the West Stand, the nameplate was repainted in its original colours and hung in the Boardroom.
It was sold at auction ahead of the move to London Stadium in 2016.
Trinidad & Tobago
West Ham United were represented by long-serving Trinidad & Tobago international goalkeeper Shaka Hislop on 157 occasions across two spells either side of the millennium.
Born in Hackney, east London, Hislop grew up in the Caribbean island nation before attending Howard University in Washington DC in the United States on a soccer scholarship, where he graduated with a degree in mechanical engineering and interned at NASA!
At 23, he joined English club Reading and helped the Royals rise from the third tier to the brink of the Premier League. He then spent three years with Newcastle United in the Premier League before moving to West Ham in summer 1998 on a free transfer.
Hislop helped the Hammers finish fifth in the Premier League and won the Hammer of the Year award in his first season, before winning the Intertoto Cup and featuring in the UEFA Cup the following season, 1999/00.
The signing of David James saw him relegated to the bench and he departed to Portsmouth in 2002. However, Hislop would return in 2005 and help the Irons reach the 2006 FA Cup final, where he made his final appearance for the Club.
One of Hislop's FA Cup final teammates, Dean Ashton, made his one and only England appearance in a 3-0 friendly win over Trinidad & Tobago in Port of Spain in June 2008.
Among Ashton's team-mates that day were one-time Hammers David James, Glen Johnson, Wayne Bridge, Rio Ferdinand, Stewart Downing and Jermain Defoe, while Joe Hart and David Bentley were introduced as half-time substitutes.
Finally, Hislop's international teammate, midfielder Brent Rahim, spent a period on loan with the Hammers from Bulgarian club Levski Sofia in 2005, but did not feature for the first team.
Ken Tucker
Born in Poplar, east London, Ken Tucker joined West Ham United in 1947, having played amateur football for Central Park and Finchley. 
The winger debuted two days after his 22nd birthday on 4 October of that year and enjoyed a day he would never forget.
Tucker scored a hat-trick in a 4-0 Second Division thumping of Chesterfield at the Boleyn Ground.
He would go on to net 35 times in 102 appearances over ten seasons, netting another treble in a 5-1 Second Division win over Sheffield United in Upton Park in February 1952.
Tucker was also sent-off in a 3-1 defeat at Fulham in January 1956, before leaving the club the following year to join Notts County.
He was also famously the first West Ham player to own a car, a Chrysler, he and his wife owned two shops on Barking Road and he regularly raced his greyhounds at West Ham Stadium!
Tucker passed away in May 2008 in Southend-on-Sea, aged 82.
Turkey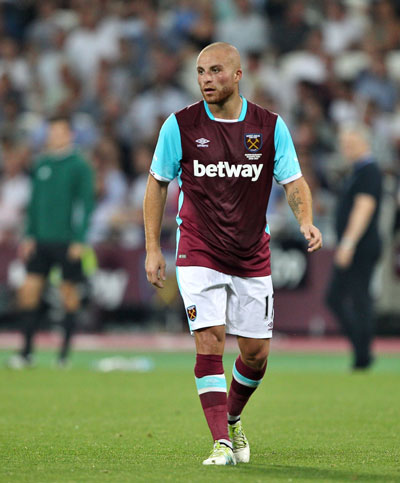 West Ham United have never visited Turkey, either for a friendly or competitive fixture, in the Club's 125-year history.
However, the Hammers did tackle Turkish club Bursaspor in the pre-season match in July 2009 at the Thermenarena in the Austrian town of Bad Radkersburg.
The game ended in a 1-1 draw, with Kieron Dyer scoring for a West Ham team that also included the likes of Robert Green, James Collins, Matthew Upson, Jack Collison and Carlton Cole.
In terms of players, West Ham have been represented by just one full Turkey international, winger Gökhan Töre.
Signed on a season-long loan from Beşiktaş, who he re-joined last year, the former Chelsea youngster set up Michail Antonio's winning goal against AFC Bournemouth in the first Premier League fixture played at London Stadium in August 2016.
London-born goalkeeper Deniz Mehmet spent three years with West Ham as a teenager, during which he was capped by Turkey at U17, U18 and U19 levels between 2008-10.
Mehmet did not make a first-team appearance for the Hammers, but has since appeared for Turkish outfit Kayserispor, Scottish clubs Falkirk, Dundee United and Queen of the South and EFL side Port Vale. He is now 28 and in his second spell with Dundee United.