Newcastle vs Tottenham game halted due to medical emergency in St James' Park crowd | Football News
The fan who required medical assistance during Newcastle United's Premier League match against Tottenham is awake and responsive in hospital.
Sunday's game at St James' Park came to a halt in the 40th minute, with Spurs leading 2-1, after referee Andre Marriner was alerted to the incident by players and supporters.
Tottenham defender Eric Dier ran to the touchline and urged medical staff to attend with a defibrillator.
Both sets of players walked to the sidelines as emergency crews attended the person in the East Stand.
An eyewitness has told Sky Sports News that a female Newcastle fan went to the aid of the ill supporter in the stand and gave him CPR.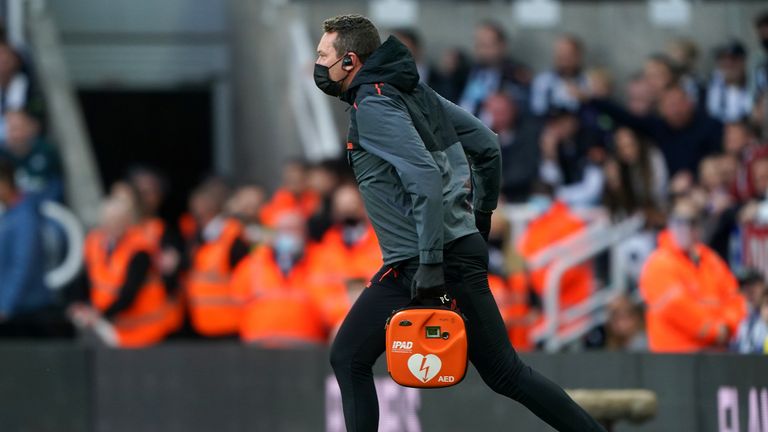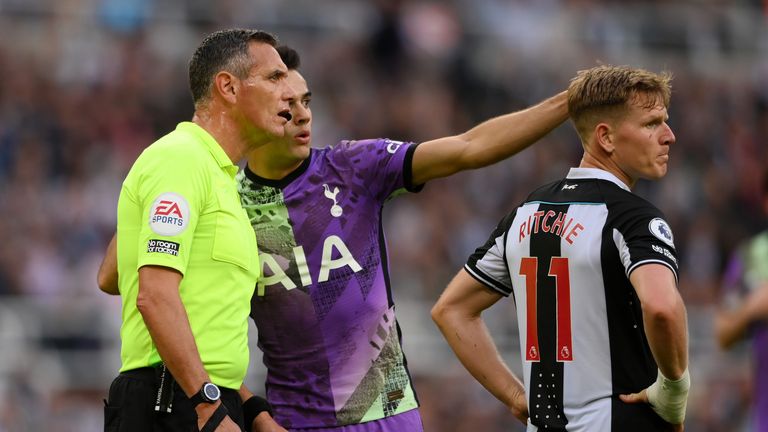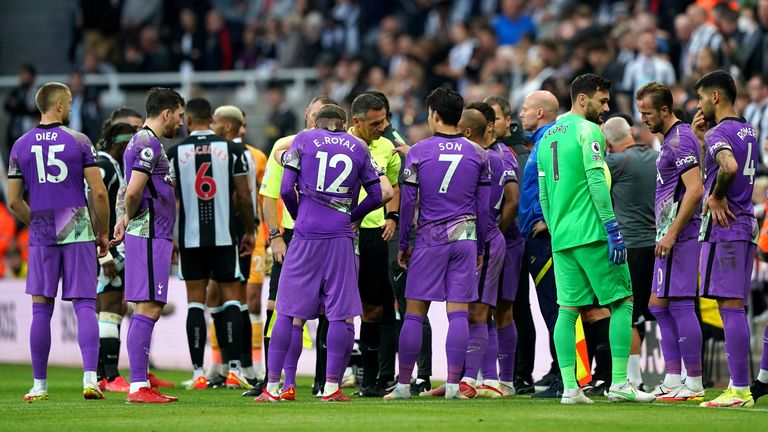 After consulting police, the referee took the players off the field with play having been suspended for around six minutes.
Some 12 minutes after the game had stopped, an announcement was made that the teams would be returning to complete the first half, for which seven minutes of stoppage time had earlier been signalled.
Newcastle confirmed that the person had been stabilised and was on the way to hospital as the players reemerged to warm up.
The supporter who was in need of urgent medical assistance has been stabilised and is on their way to hospital.

Our thoughts are with them. 🖤🤍

— Newcastle United FC (@NUFC) October 17, 2021
After the resumption in play, Tottenham increased their lead in first-half added time through Heung-Min Son.
The match finished in a 3-2 win for Spurs.
Dier and fellow Spurs teammate Sergio Reguilon were named joint men of the match for their part in quickly alerting the match official and medical staff to the severity of the incident.
Speaking to Sky Sports after the game, Tottenham left-back Reguilon said: "I saw the fan lying down, and one man [giving him CPR], I was very nervous, I went to the referee and said we cannot play, stop the match. The fans say: 'Stop, stop!'"
Tottenham's Harry Kane added: "First and foremost, we want to say best wishes to the guy in the stands. It wasn't a good sight to see, and we hear he might be stable now, so we're thankful to the medical team and the fans. Hopefully he is OK, and we wish him all the best from Spurs and the players."
Ginola recalls role CPR played in his recovery from cardiac arrest
After Newcastle's match with Tottenham was temporarily suspended due to a fan being taken ill in the stands, David Ginola reflects on the cardiac arrest he suffered in 2016 and explains the importance of CPR and defibrillators in saving lives

Former Newcastle midfielder David Ginola had a quadruple heart bypass after suffering cardiac arrest during a charity match in France in 2016 and was a Sky Sports pundit at St James' Park on Sunday.
Ginola was given CPR on the pitch at the time and spoke of its importance in enabling someone of having a better chance of a full recovery.
"This is what saved my life – those were the words of the surgeons that operated on me," he said.
"The one who saved my life were the ones on the football pitch who knew how to perform CPR. They did it for 12 minutes and I was dead for 12 minutes. It is so important as otherwise the brain will be damaged.
"Sometimes [when doing CPR] people don't want to hurt you too much but you need to go deep and break ribs. When you learn how to do it, you are going very strong on the body. This is the key. It's vital."
First aired in 2018, we explain how to perform CPR with David Ginola, Jamie Carragher and Monday Night Football presenter David Jones

CPR stands for cardiopulmonary resuscitation and is a medical technique which is given to someone who goes into cardiac arrest.
That occurs when the heart encounters an electrical issue and stops pumping blood around the body and to the brain, causing the person to fall out of consciousness and stop breathing.
Medics define this as 'clinical death', which is the onset of biological death, although CPR can help re-start the person's heart functions and save their life.
By administering chest compressions and rescue breaths, the CPR performer helps to pump blood and oxygen around the person's body, taking over the role of their heart and lungs.
Always seek professional help by calling 999 before starting CPR. The NHS's advice to carry out chest compressions is as follows:
Place the heel of your hand on the breastbone at the centre of the person's chest. Place your other hand on top of your first hand and interlock your fingers.
Position yourself with your shoulders above your hands.
Using your body weight (not just your arms), press straight down by 5 to 6cm (2 to 2.5 inches) on their chest.
Keeping your hands on their chest, release the compression and allow the chest to return to its original position.
Repeat these compressions at a rate of 100 to 120 times a minute until an ambulance arrives or you become exhausted.
The British Heart Foundation recommends that in an emergency situation it is better to try and perform CPR, even if unsure, rather than to not do anything at all.